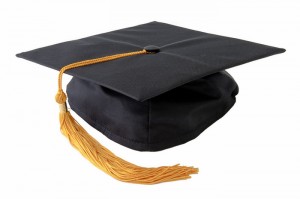 Last week, I posted on Engineer Blogs about how you can definitely go to engineering graduate school for free (and get paid) if you're a US citizen.
Helena posted the following comment:
I'm entering college this fall as a freshman, and I've enjoyed reading EB for a long time. I've always known that I wanted to go to graduate school, but the chances seem to be slimming down, due to the intensity of the undergrad curriculum and the lack of research in my field of interest at renowned universities. The tens of thousands of dollars of debt I'll have at the end of my undergrad isn't helping the outlook either. What is the benefit of having a graduate or PhD level degree, as opposed to entering into industrial research for specialized companies?
I intended to write just a short answer but, that really wasn't possible. I definitely needed more space that just a comment because it is a multi-faceted problem.
It would help me to answer your question if I knew at least your base discipline (ME, EE, Civil, whatever). I'll assume ME because of the robotics that you mention on your website. For EE, adjust number up slightly and for civil, adjust the numbers down slightly.
To be perfectly honest, I wouldn't worry about your debt coming out of college. Between my wife and I, we had 1/2 of a mortgage between us and it hasn't been a problem to pay it down. I think all federal loans can be deferred until grad school is finished so you don't have to worry until then. And, since you've committed to MIT, you're going to get at least a 10% premium in salary because of the MIT name when you get a job after graduation. That is, unless you also get an econ or finance degree like a lot of other MIT engineers and end up at hedge funds. In that case, add a zero to the end of your salary 😀
Now, on to the research. If there's not a lot of research going on in your desired program of choice, considered sidestepping a little into an area that does. If it's robotics, there's plenty of stuff in that area, you just need to know where to look. If you're still having problems in a few years from now, hit me up for answers then. Since you're entering UG this fall, you've got plenty of time.
UG is all about learning how you learn. If you jump out after a BS, you basically learn how to assess and diagnose existing problems. Grad school is all about learning about future problems. And even if you take classes, you're still mostly learning on your own. Now that you've learned how to learn in your UG, it's time to apply it in Grad School. Here, the problems are cut'n'dry. (ie: oh shit, we have this broken pipe, how do we fix it?) It's more like, "There will be corrosion in this pipe and how can we characterize the degradation over time to know when to replace it right before it breaks".  That's a MSc level problem. At the PhD level, you have to go deeper and look even more into the fundamentals, future uses and needs, etc. Plus, you not only go deeper in a specific field but you also are supposed to branch out into other disciplines because chances are someone in a completely different field is working on the same exact problem only on a different widget.
As far as job prospects (not including the MIT premie), $55k/year with a BS, $65k/year with a MSc and, $85k/year with a PhD is the target numbers I would use. If you get a job in Cali or NY/New England, you can add a 20% ish cost of living. When you're in grad school, you're probably paid $20k/year for MSc and $25k/year for PhD work. If you leave after a BS, it takes about 5-7 years to make up the money, depending on how bonuses and pay raises are factored in. For a PhD, it takes about 10+ years. But the higher you go, higher your potential earnings. For instance, it's not uncommon for starting faculty in engineering to make $100k+ per year when you factor in summer salary (just google salary with U of State and engineering). If faculty are making that, you can be damn sure industry is paying it as well, and even higher. So you lose some money for 5-6 years, but you immediately jump into a position where you're already in the top 10% of earners in the US. That's a damn good starting point.
If we go beyond the financial aspects, the higher your education, the more control you have over what you do for a career. With a BS, someone will be telling you what to do at work. With an MS, you're probably going in to mid-level management. With a PhD, you'll either be deciding the direction of R&D or you're in upper-level management. Frankly, I'd rather be deciding what I want to do at work than have someone tell me what I'm supposed to do. But that's a personal (and biased) opinion.
Lastly, in your comment, you ask "What is the benefit of having a graduate or PhD level degree, as opposed to entering into industrial research for specialized companies?". The problem is, you can't get into industrial research without a PhD, even in specialized companies. I know there's always exceptions and maybe with 10 years of experience, you'll get there. However, that door will most likely be shut to you if you don't have a higher degree.