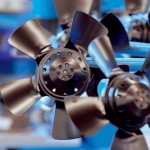 You may have noticed that I work for ebm-papst UK Ltd, but do you know what we do? Or how we are changing the world? This week, I want to explain the most exciting development since the electric motor: the EC Fan.
Ebm-papst is a market leader in supplying fans to the whole world. That's everything from fans in microwaves and ovens to fans in computers and IT equipment right the way up to massive fans keeping data centres and supermarkets cool. However, it's the development of the EC fan that has made a massive impact on the world.
I'd like to point out from the beginning that ebm-papst is not the only manufacturer of EC fans, but we were the first! The EC fan is important because it is much more efficient than standard electric fans. A typical AC fan uses magnetic fields to spin the rotor around.  However, this induced energy into the rotor generates slippage. That is to say the motor will not spin at the same frequency as the applied AC signal, hence a loss of efficiency.
The EC Fan, however, uses a power-supply to generate a high-voltage DC voltage, normally some 400 volts. The electronics then uses this buffer of energy to drive what is in effect a high voltage DC motor with a permanent magnet as its rotor. This means no induction and hence no losses, making EC fans much more efficient than normal AC motors and fans.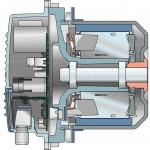 The impact on the world is now significant. Currently there are lots of regulations going through that are stating that we must help save the planet. To do this, these regulations are banning the use of electric motors with poor efficiency. Over time these limits will get harder and harder to pass. EC fans, however, currently meet regulation changes that are planed out till 2050.
The design change also means one other important thing – speed control. Slowing down anything will use less energy so slowing down a fan will do this also. AC fans need big smelly inverters or other speed limiting controls to do this. EC fans however need none of this because the electronics to run the fan are already built in.  All you need to do is tell it to go slower via a voltage control input or over a communication link like RS485.
EC fans are already saving hundreds of megawatts: that's like switching off the power to the UK. So this new technology is changing the world, and ebm-papst and all the other manufactures are making this happen.
So for feedback this week I want to know what you do. What are you working on that's affecting and shaping the world in some small way, or just affecting what we do each day?