In the olden days of apprenticeships, your status in the world was built on your set of tools. While you were an apprentice, you started saving your money and acquiring your collection of tools, and when you had a full set and were ready to start your own practice, you launched on the foundation of the tools you brought with you.
The set of tools you needed was directly related to your field – cobblers needed shoemaking tools, blacksmiths needed forging tools. If you allow the analogy to stretch, even the young women of the time built a collection of tools – they filled hope chests with linens and tablecloths as a dowry for when they got married.
And I think to some extent, this tradition of building a set of tools persists today. Machinists and auto shop guys still take great pride in their toolboxes, carpenters take loving care of their chisels, and electricians wouldn't be caught without at least the essential wiring tools. Even occupations that aren't traditionally blue-collar come with tools. Lawyers may need bookshelves full of reference volumes, and teachers may have cabinets full of visual aids.
So what tools of the trade do you use, readers?
I do keep a Craftsman toolbox in my bedroom, but sadly those tools I don't use in my grad student lab career. I think the best answer for myself is simply to look at my desk. Of course I use many tools in my research, but the two that get constant use are my calipers and my micrometer. I keep them readily on hand, on my desk and in lab.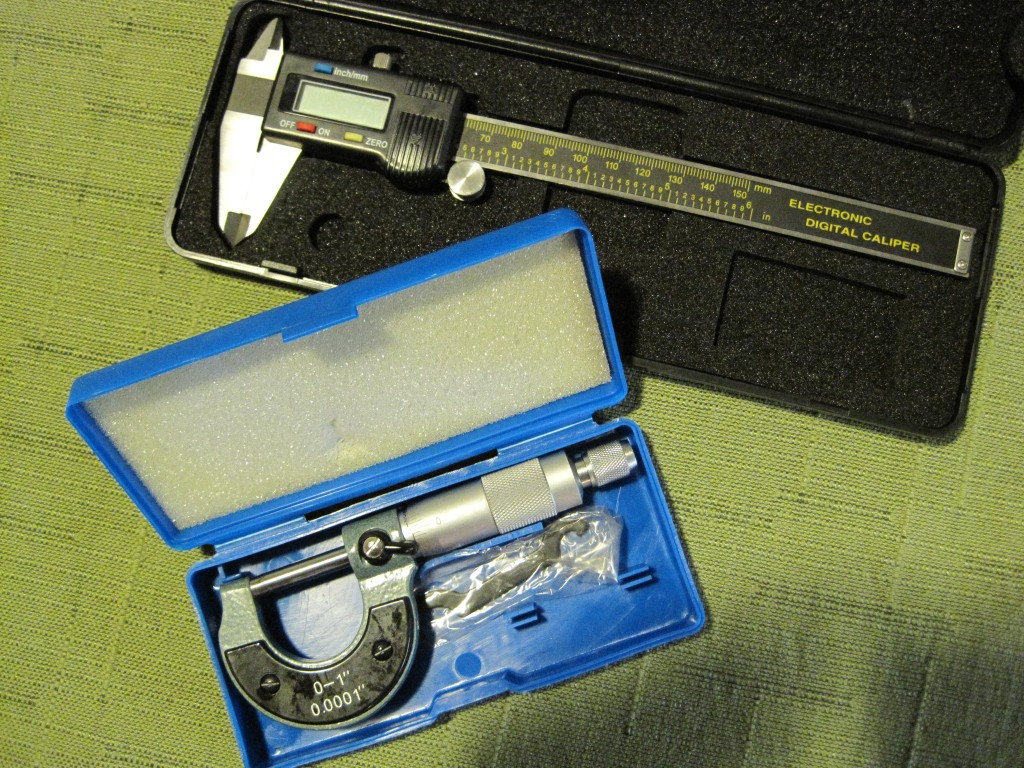 Calipers are used to measure distances. In the photo above, the top tool is a digital caliper. You spread the jaws open to encompass the distance you are interested in (the diameter of a pipe, perhaps, or the length of a screw, or the spacing between holes), and the distance is displayed on the digital readout. The nice thing about a digital caliper is that you can easily choose inches or millemeters as the display output.
Micrometers are a subset of calipers – still used to measure distances, just smaller and more precise ones. (The bottom tool in the picture.) Calipers will generally measure 6″ or 8″ maximum, and will have an accuracy of perhaps .001″. Micrometers, on the other hand, have a typical accuracy of .0001″, but will only measure a maximum of about 1″. I've actually never seen a digital micrometer, so mine is an old-school Vernier model, in standard English units, so if I need metric I have to convert later.
What tools have you collected over the years to do your job? Sound off in the comments!