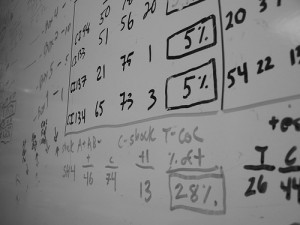 As we talk about cross-functional issues this week, I have to say that's it not always communication BETWEEN engineering disciplines that causes problems. For problems like that, you just have to learn the correct lingo, and talk to the people in the other discipline, and you are good to go. If the problem is communication with a mixed discipline like controls engineering (which is people like me!), apparently the key is that we just need to make sure we keep a grip on reality! But like Chris did in his discussion of old engineers, I want to talk about a problem WITHIN a discipline. Take this all with a grain of salt; it's just good-natured ribbing…
I'm talking about theoretical engineers and experimental engineers. Now I admit that theory and experiment have different applications in every discipline, but in my world of Mechanical Engineering research, I have little use for theoretical people.
The reason I find theoretical modeling people hard to work with is not lingo differences, or the inability to understand technical concepts, but a mismatch in the entire approach to life. It's kind of like discussions between Republicans and Democrats, I've found. You should be able to have a reasonable discussion about a political issue, but when both parties are coming from wildly different assumptions about what the role of government is, and when both parties are heavily invested in their own point of view, you are bound to run up against problems even when you are trying to reach the same end goal.
I believe the end goal of theoretical and experimental researchers is the same – to do cool things. But the approaches are different – the role of theoretical people is to model and predict cool things. MY approach is to DO cool things. Or, at least try. J
The theoretical engineers love, love to talk about the fantastic things they have theoretically proven. Or the awesome things their model predicts. But my problem with that is always simple – I don't believe it.
Models can't capture reality
First of all, NOTHING ever works out exactly the way it is modeled. Sometimes because the model is too simple – do you remember back in physics class, the "practical application" word problems? They always called for a mass-less spring, or a frictionless damper. As the old joke goes, a physicist can only tell you why the chicken crossed the road if it was a perfectly spherical chicken. Simplified modeled components like these can't capture all the real behavior.
And even if you tell me that you have modeled every possible aspect of every component of a system, down to an atomic level, then I still have two issues. One, it's still impossible to model the UNKNOWNS. Something will always come along that you didn't expect – a disturbance of some sort, say – and that's usually the case you are interested in anyway! And second, if you model a system with that much detail, it takes FOREVER for the computer to chug through the solution. Which brings us to:
Models take too long to run
So what is the purpose of models, anyway? Why do people keep insisting on making them? Well it's SUPPOSED to be that a good model can be used to predict something that is too expensive or too time consuming to test in reality. But with prototyping techniques becoming better and better (hello 3D printing!), it's getting ever easier to mock up what you want to test. And time-consuming is a relative thing – no matter how short the model takes to run, it's wasted time if the answer isn't useful or real.
And a short example from my own experience – at my school, there is a group of engineers that specifically work on modeling and simulation of the manufacturing process that I use. Over the course of the four years that I've been here, they've come up with a pretty great model. But it takes two hours to run the simulation, and it only takes me two minutes to crank out a part on the machine I built. Why would I wait for a model, when I can just get out there are try it?
Models have no consequences
In addition, theoretical models rarely capture the real consequences of a failed experiment. My favorite example of this is a story from a friend of mine in the automotive lab. Just like in my lab, there is a group of engineers dedicated to modeling the processes going on in an engine, but my friend is one of the engineers who actually RUNS the engines. The theory engineers will recommend experiments, usually trying to test the limits and push the envelope – which means risky experiments. But as my friend complains, "They are always recommending these crazy things, that have barely a chance of working. But what they don't realize is, that if their simulation doesn't work, they just get an "NAN" in the results table. But if I run an experiment that doesn't work, an "NAN" means I blew up an engine!" I laughed, but still secretly in my head I was thinking, "Well yeah, but blowing up an engine could be rather fun…" Which brings us finally to:
Models are no fun
Where is the enjoyment when you spend all the day in front of the computer? No wonder the stereotype is that the programmers running the algorithms are anti-social  – if I spent my whole career interacting with a computer, I would be too! Instead, I get to spend my days puttering around the machine shop, which is one of my favorite ways to spend the day.  The thrill of physically building something new, seeing something sitting on the lab bench that simply WASN'T THERE yesterday… there's nothing like it. Truly, I think that practical, hands-on engineers are the people who make dreams turn into reality.
So for all the reasons I've listed above and more, I say to theoretical engineers – talk to me when you've finished dreaming.