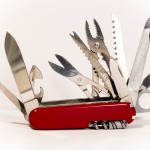 So yes, it is that time again when the slightly odd electronics engineer posts another blog. Having got this weeks theme via email again I stopped and asked myself – do I always have a totally different view about things from everyone else? Well, in short, yes I do!
As an electronics engineer I tend to interface with others like mechanical engineers and software engineers or departments like production or maintenance. However, I don't think I've had problems talking to them or getting them to understand me. This is mainly because I have worked in other areas of business and engineering other than just magically appearing as an electronics design engineer.
In other blogs I have talked about my education and progress to becoming an engineer and you will see I started off in production and did a mechanical engineering course at college. So I've become one of them 'Jack-of-all-trades' type engineer. OK, I may not be the perfect Swiss army knife solution to engineering that can do anything – just that I have been exposed to other areas and hence understand it.
Personally, I think its very important to be able to talk to your production people. You can't design a product that is easy to build unless you know who your production people are, what skills they have and even what tools they have.
It's also important to be able to talk to other engineers. If I can't understand what a corner nibbler is, how can I understand what it can do and how it may effect the physical size of my PCB. In that same way, if I can talk to a software engineer and explain how my hardware works, then they can get the best out of the code. Cross-engineering understanding is vital in today's climate and essential in smaller companies when you may be the only one of your engineering discipline.
So I've actively taken an interests in other engineering practices. As I said I'm not an expert, but here at ebm-papst I'd be at a disadvantage if I did not understand airflow and CFD. In the same way, I would not have helped get the best from a design that controlled halogen lamps without some background in lamp physics.
There are, however, a number of engineers that feel that this cross-engineering interfacing is a joke, that there should be clearly defined lines drawn and specification detailing who is doing what. I can't disagree but you need at least someone who can draw the line and understand it.
So if you find yourself in a situation where you don't understand what someone is trying to explain to you – consider that it's you that may need to reach out across the line and do more to understand others.
Believe me, being the one who can talk across the line means you can be the one who can define the line. This allows for better control and understanding of your role as well as becoming a more valuable member of the team – an ally to your counterparts.