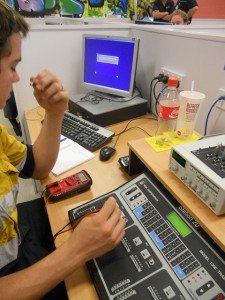 Honestly, I came up with this week's theme ("how'd you get to where you are today") based on my desire to write about my own experience. Actually, it was in response to Miss Outlier's post about variation in engineering education. The recently departed Fluxor (miss ya buddy!) and I had previously discussed how my school wasn't as thorough on all fronts of electrical engineering; however, our curriculum was supplemented by something called a "co-0p". And in fact it was the reason I went the the school I did in the first place.
So, what's a co-op? A co-op (or "cooperative education") is when you take 8-9 months and don't go to school. Sounds like fun, eh? Just sit around all day and play video games or something? Well, no. Actually, during that time, you're out in industry working for a company. With a salary and everything. And in most cases, you're doing actual work for your employer, either on a project or on tasks like any other engineer.
"So what?" you say, "Why does that matter?"
Well, it matters for a couple reasons. First, I had the chance to get out in industry and learn things I never would have been able to learn during my schooling. A reality is that even the best schools aren't going to be realistic engineering situations, especially in undergrad days. And this takes many forms. Sometimes, you won't have nearly the amount of equipment you have in the school lab,  so you'll need to learn to improvise. Other times, you'll be using stuff at work that is so specialized, there's zero chance a school would have it. And if they did, you're probably not allowed to get near it as an undergrad. Even the "design projects" that I did shaded more towards cook book (for the labs) or brainstorming (for some of the projects). In the real-world environment, you begin having to justify costs, dealing with realistic time lines, managing inventory and just about everything else that bridges the gap between the academic world and an industrial environment. And even the realities you have to face as an engineer in a business world.
When I was done with school, I had a good chunk of experience. No, I was not an "experienced engineer", per se. My two co-ops didn't really have much to do with each other, though I thoroughly enjoyed both. The first was working on audio circuits and the second was doing digital signal processing work. But that's the kind of variation a student can experience. When I walked into the interview for my first full time engineering position, I wasn't talking about school projects or classes or labs I had attended; I was discussing how I solved real world problems, every day on the job. As someone who now interviews new hires and co-ops, having this experience to talk about really helps separate you from the pack.
I began learning things that some engineers don't learn until they've left school and started their careers. The first was the value of networking, though I didn't realize that's what I was doing at the time. All I thought that I was doing was meeting other students on co-op and working side by side. However, I met one of my best friends and one that helped me get my current job, over 5 years after meeting him. Many of the others I still keep in contact with. Getting a jump on building connections cannot be understated.  Another thing I learned was some of the real world skills that many would think are natural, but really aren't.  Being a college student and having an on-campus job is a LOT different than getting up and going to work each day. The concept of a self-imposed curfew wasn't as alien as an idea when I had to work a 9 or 10 hour day the following day. And regardless of my newfound somnambulic education, I still learned the value of a strong pot of coffee in the morning (knowledge I carry with me to this day!).
And finally, the point I'd really like to get at with regards to co-ops: they give you perspective. Perhaps you find a job you really like. More likely, you'll find out that you don't particularly like certain jobs. It helps you narrow down the field you might like to be in, without experiencing it only in the academic world. Even better, that same perspective allows you to come back to classes and say, "Oh, THAT'S why I need to know Fourier transforms!" You've seen the power of ideas in the real world and you know the important parts to learn to be an effective engineer, all before leaving the confines of a university.
I would highly recommend students out there try to find co-op programs, especially if they're searching for a university. Like I said before, I had the benefit of a very strong program, with lots of local support from companies. I learned a whole bunch about how to be an engineer and I wouldn't be where I am today without that experience.
What about you? Have you ever done a co-op? Have you done an internship (summer or otherwise) and felt the desire to keep on going a few more months? Let us know in the comments!