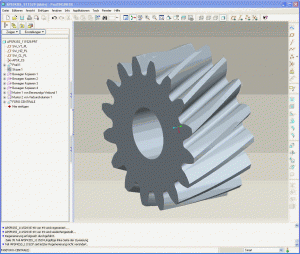 PTC's Pro/Engineer (now called Creo Elements), in my humble opinion, is a terrible software. I say this as someone who used to have a lot of experience with it. I started using Pro/e during my UG freshman year. During my sophomore year, I started being a TA for the class. During that year and the following 3 years, I TA'ed between 4 and 8 sections of Pro/e (and Pro/e2 and Pro/e Wildfire), to hundreds of incoming freshman, getting to the point where I was going over the design lectures and the main prof for the class only showed up for tests.
In general, being a TA and pseudo-lecturer gave me some good exposure to how lectures really work in college from the other perspective and it got me over my fear of public speaking. So the intangibles associated with the position were pretty good. But man, Pro/e is a terrible software.
For anyone that's used a CAD program (probably everyone reading this right now?), Pro/e was clunky, slow, and required too many button clicks and constraints to make useful parts. And don't even think of using it's FEA companion Pro/Mechanica. You're wasting your time. Also, when you're using it via a remote-desktop-like network on a university campus, it's even worse. Maybe it's gotten better over the years (I haven't used it since 2005) but those incarnations were ghastly.
This was compounded because a colleague introduced me to DDS's Solidworks, which is absolutely fantastic and seamlessly integrates with COSMOS, their FEA package. I remember once I tested making a 1″ cube with both softwares. It took 3 times longer for Pro/e to start up and took 4 times as many button clicks to actually draw the damn thing.
Yet, at the same time I endlessly bash Pro/e, I basically owe my whole career to it. You see, this week's theme is the "thing that got you to where you are in your career", and while I'd like to think I got to this point via hard work, determination, and persistence, I know luck probably had a lot more to do with it.
You see, I was lucky enough to get an email over the summer between Jr and Sr year from the prof in the class who had a small startup company looking for someone to translate Pro/e parts into drawings for manufacturing. I decided to take the job basically because I needed money. And I didn't think much of it until I started asking questions about the actual parts I was drawing. They were totally cool and it looked very interesting. And when I finally saw the final parts after manufacturing, I was totally set on working in this field (sorry, being vague on purpose).
In the span of a few short weeks, I went from having no direction for senior year project and post-graduation ideas to having a senior project working in this field. That year long senior project turned into a summer position with the company before going back to the university for my MS. Through these same contacts, I met my wife and decided to get a PhD with the hopes of eventually pursuing a faculty position.
Some say 90% of life is showing up. Others say it was 80% effort and 20% luck, but without that luck, you would have ended up with nothing. I say 60% of all statistics are made up on the spot. In any case, maybe there was a chance I would be in this exact same position if I didn't use my Pro/e skillz to my advantage, but I doubt it. As it stands, I owe basically everything to Pro/e, no matter how terrible the software really is.