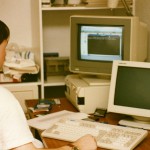 This week I received an email from Chris telling us what the theme was – The things that made us who we are, the turning point. Chris suggested in his email we could consider the people that helped make it happen, our teachers and mentors. But what happen if you had none of them?
Well that's what hit me when I read the email. I don't consider myself a great engineer, there has been no turning point in my career other than ploughing though 13 jobs. My teachers at school did not inspire me; in fact, I was told when I left school I'd account to nothing because I have Dyslexia. Looking back over 20 years of working in engineering I can't say any one person has taken me under their wing, sponsored me or guided me. I've just been out there doing it on my own.
When I started out and left school I wanted to be a paramedic, but was too young; so I took an apprenticeship. I considered going to train as a paramedic again when between jobs, but never did. I later found video editing and love doing it – but I'll never get in, I don't have the experience or connections despite a love for making films. I have always been an engineer right from before the age of 10 and think I always will be. Its just who I am.
As someone who did not really make friends at school and never got a date till after I left school I could be classed as a classic geek. Sitting at a computer day in, day out and getting far too excited about electronics or some software package (Yes the picture at the top is me – a long time ago!). I think my social skills are still poor, I'm lazy, dislike my own self image so like many I find myself behind a computer. I know I'll never be a Chris or like Dave from EEVBlog. Nor will I rise from nothing to being a engineering star like Jeri has and prove one person can make a difference and beat the odds. I'll always be an engineer.
There is however one thing that has made me an engineer: my passion. I have a job where I get paid to design stuff and create new things that no one has done before. I have worked at some interesting places and some dull places. However my passion has been to create. Some people feel a love for music, art or the mystery of space. For me I see beauty in well designed products, well laid out PCBs and clever software. So my drive and inspiration that moves me on is in trying to achieve this perfection in my own work. We all know this is not actually possible but I personally feel that if your don't try you can't achieve.
I know that there are others like me. We have never had a mentor and possibly never will. Those who don't know where their career is going and those longing for some guidance. Engineers who have not had that light bulb moment, that moment that changed who they are. I want to say to all of you:  You're not alone. Nor are you missing anything.
There is a song from the late 90's that talks about advice and the last few lines stick in my head :
"Be careful whose advice you buy, but, be patient with those who supply it. Advice is a form of nostalgia, dispensing it is a way of fishing the past from the disposal, wiping it off, painting over the ugly parts and recycling it for more than it's worth."
So for me the person I aspire to be is the engineer I could become. The person who has got me here is the engineer I was…
Good luck.