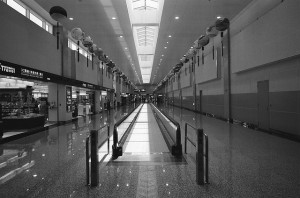 I'm on now what is likely my 3rd business trip ever. I don't travel much, for work or otherwise.
I've been reporting for element14 at the ESC Silicon Valley 2011 conference. It's been really fun, getting to make videos and posting to their "Do It Together" blog; but outweighing the fun has been the weariness I've felt, the same weariness I've felt at other conferences and other times I'm traveling. And that's the inspiration for this post.
First off, I think I should mention what I always try to do. I always try to go on Yelp when I travel and try out some of the highly rated local restaurants and bars. I don't travel much outside of work (I'm a cheapskate), so when I do, I like to try to get to places I wouldn't experience otherwise. But I've found on this trip that I haven't cared as much. I know this is exactly what regular travelers feel as well on a regular basis. It's no longer about getting out and trying the flavor, it's about getting fuel to operate the following day. While I don't hope to operate like this forever, I have started to understand it more.
Another thing that is a particular problem at conferences is the late night schedule. Mostly that I should be eschewing burning the midnight oil and instead get some solid rest. Often it occurs that I go and stay out late on the first night of a trip and then it ruins the rest of my experience because I have a hard time keeping my eyes open. And while I know I shouldn't stay up, I think I had a good excuse this time. I had a chance to go tour the Evil Mad Scientist Lab (one of our judges for the 555 contest) when I was out this way. How could I resist that? I got to see their new shop bot (which was awesome!) and hang out with Windell and Lenore (even awesomer than the shop bot).
There's a lot more to talk about with regards to business travel, but I'm once again travelling…this time taking a flight home. How have your travel experiences been? Are you able to keep a level head while traveling and still see the local sites and sounds? Let us know in the comments below!