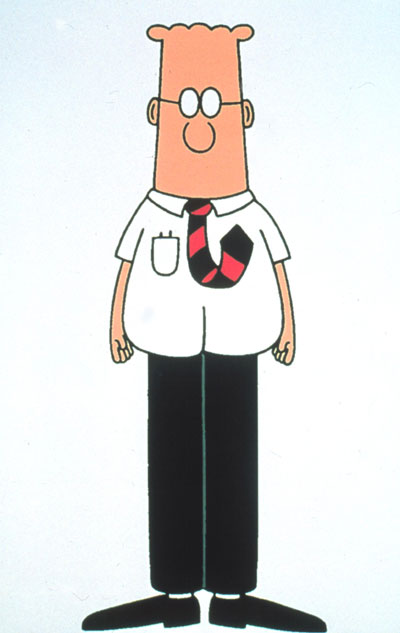 It's a classic struggle – the logical, practical engineer butting heads with the uncomprehending, inefficient business major (see: all of Dilbert). Or wait – is it instead the visionary manager struggling to focus a socially inept engineer puttering off on a inscrutable tangent? (See: popular portrayals of mad scientists.) Somehow, engineers and business people always struggle with communication. As much as it's beaten into us that the best teams are made of diverse people, both technical and managerial, somehow, in practice, collaboration between the parties is always painfully difficult.
Why is this? Partly it's the way that business people and engineers perceive each other.
I'm currently a PhD student in Mechanical Engineering, but my minor is Entrepreneurship, which means I've taken a good number of classes in the business school. I've had to deal directly with the stereotypes that business students have when perceiving engineering students, and also with my own engineering bias against business students.
As an engineer:
I find most business people very hard to work with. I know that there MUST be smart business people out there, but man if I can't tell the difference between a good one and a sucky one. They all sound the same! They all use buzzwords that mean nothing. They can make any simple concept sound ridiculously complicated by confusing the issue with unnecessary jargon. Then they trivialize the truly complicated things (technology-related, usually) by tossing out things like, "and then we just scale up manufacturing to a million units a year." They can make anything sound important, even if there is no substance behind the hype.
And you can't have a discussion with a business person without having to watch out for their agenda – usually they just want to know how they can use your best ideas. They take credit for entire projects, even if their only contribution was to make changes to the titles of the PowerPoint (which it took them a week to do). The only way they know to make a decision is just to discuss it, and talk in circles endlessly – never does it occur to them to take data to make a quantitative decision. Or is it because they aren't capable of even doing the analysis? Because they never do any actual work, instead perfering to spend time "networking," which means talking about nothing, eating and drinking on the company dime, and sending countless useless emails.
As a business student:
I find most engineers very hard to work with. They are all supposed to be SO smart, but man if they are I sure can't tell. They all sound the same – all they want to discuss is the boring modeling they are working on. Nobody cares, because none of them seem to be doing any work with practical relevance. When they try to explain what it is they are so excited about, they describe it so confusingly and use so much jargon, that nobody can understand what's going on. Then they trivialize the truly complicated things, by tossing out statements like, "and then we just hire salespeople and sell a million units a year." They can make anything sound boring, even curing cancer, because their PowerPoints and writing are so bad.
And you can't have a discussion with an engineer, because they can't communicate. They don't pick up on social cues, can't carry on a conversation, and the whole thing just becomes painfully awkward. They will take off and work on an entire project, without ever collaborating with anyone else, so nobody is kept in the loop with what's going on. They refuse to appreciate the nuanced approach that is necessary to make complicated decisions with multiple parties involved, and refuse to accept that sometimes data is just not available in certain situations. They don't see the value in spending time to make connections with valuable resources, they sneer at the countless hours managers put in to keep the business running smoothly, and they are always arrogant enough to think that they can do my job better than I can.
How many of these perceptions are true? Depends highly on the specific person in question, of course. I have to say that in my experience, Dilbert is spot on. I have had a few really good experiences in my business classes, but in most cases – honestly, the "business person stereotype" is mainly all true. Which makes me wonder – to my business classmates, am I a true "engineering person stereotype" as well?
What perception biases have you experienced between engineers and business people?