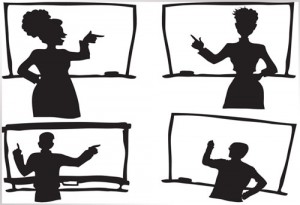 This post probably won't win me any favors with faculty in other engineering disciplines but it's something I think should be investigated as a possible method to improve the undergraduate curriculum (particularly in ME). Since I'm a ME by background, I'll stick with that curriculum because I know it better than others, but this thought process is probably adaptable to EE, civil, and a few other core engineering disciplines.
Most of the courses in a typical ME curriculum center around solid mechanics, dynamics, thermo, some materials, some design, and some lab classes. And with those classes, you generally have to take a few physics classes, a bunch of math/statistics, probably a chemistry, and probably an electrical/controls course. Now here's the big change. For ME students, all of the engineering/physics/chemistry classes should be taught by ME faculty, not within their own departments.
Wait a few seconds to let that seep in…
…
Ok… a few more…
…
…Now, before the onslaught starts, I'd like to explain my reasons for that bold statement.
The main reason has to do with overall course objectives. Classes taught to a general audience don't get specific enough for a particular discipline to get enough out of them. For instance, the calc 1 curriculum has to satisfy requirements for all STEM students. There are snippets in there for each discipline but some are completely unnecessary for others.
Another is inertia. When general courses have to satisfy multiple department and degree objectives, getting changes to a course can be time consuming. However, if the department was overseeing their particular version of a class, they could make changes semester-to-semester to tweak their focus areas.
A third reason is the course content, layout, and instruction. This goes along with the inertia issue. Maybe one of these courses would be better off with some lecture topics removed and a project added (or whatever).  That could be very beneficial to one discipline but maybe very unnecessary for others. Also, the particular instructor can have a large impact on the students' success. If a course is managed by a different department, the other departments may not know the actual lecturing was handed over to a first year graduate student who was pursuing a PhD in an entirely different subject (yep, that happened in a class I took).
The last reason is curriculum streamlining. Potentially, some topics can be removed or placed with topics in other classes which can consolidate the number credit hours. I'm not looking to dumb-down the curriculum and make it less credit hours. Rather, I would clear some space for more advanced ME classes within the UG curriculum.
I know the obvious reasons why this isn't done. The first is shared resources. One prof can teach a core class for five different disciplines rather than five different profs for five different disciplines. More profs means more costs for the schools, which isn't a good thing. The second is ABET. I don't know the particulars of that, but I suspect they might have something to say about it. The last major reason why it isn't done is the profs themselves. Most profs don't even want to teach UG classes, let alone asking a ME prof to teach Calc I. However, this might be mitigated by streamlining the course, where it is more appealing to teach.
I'd like to hear your comments and criticism (or support) for this idea. If you are interested in reading more, I'll be delving into each of the ME extra courses (maths, physics, electronics/controls, and chem) over on my normal GEARS blog. When I'm done with that (and because this is the interweb, not the real world) I'll post my GEARS undergraduate fake-but-cool ME curriculum outline for you to critique.