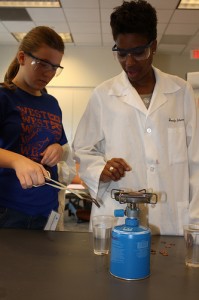 Now that my glut of "new job" posts is running out of steam, I should probably get back to an oldie-goldie topic here at Engineer Blogs. In fact, I've had this one in the hopper for a while and I thought it be good to bring up before the beginning of the new year when all the kiddies head back to school (well, I don't have any children, but I notice around town when kids are out of school!).
STEM (Science, Technology, Engineering and Mathematics) education is a hot topic these days. People are finally starting to realize that the engineering work force is getting older and this could have detrimental effects in about 10 years if the queue is not filled with bright young engineers. And as of right now, there aren't many in the pipeline. In my own experiences, I recently realized I am one of the youngest engineers at my new job. I'm no spring chicken! And behind me, fewer and fewer high schoolers and college kids are chasing engineering degrees for lots of different reasons. Sure, there are some ways we can work towards that now but I firmly believe the first step is when children are not in high school…but elementary school. I don't mean starting a job training program when a child is 6; I mean enrichment with science and a maker mindset. And don't get me wrong, there are lots of people pushing these ideas! In fact, one of my good friends has an extricurricular school of sorts to get kids interested in engineering that is doing quite well. But in all of it, I consistently wonder: Are we targeting the right people?
I don't mean racial, socioeconomic or gender separations; my question is more binary in nature. Are we targeting the children too much when we should be targeting the parents?
Maybe target is the wrong word. Maybe it's more we need to "market" engineering as a career to the parents. "Booooooo, hiiissssssssss," you say, as any self respecting engineer would. And though I'm kidding about the hissing, I believe there is real value in marketing engineering careers to parents, especially when their children are still in elementary school.
Let me back up for a second and explain where this idea came from. I was at the gym, which has inspired other posts in the past. I often run around a track where many kids are playing basketball or volleyball on the courts in the middle and I get to watch their interactions as I pass, lap after lap. I'm always encouraged that I live in a community where parents are involved in helping their kids improve, often running drills with their children or showing them a new way of running a play. As for sports, that's great. And if it is extended into all aspects of that child's life, the child is guaranteed to be at an advantage because they have an engaged, involved parental figure (hopefully two). That really is a key to success in life and I was very blessed to have the same in my life. My father is a salesman and my mother is a teacher's aide at an elementary school. Neither had much of a background in science beyond the basic classes required in high school and college, but were very supportive in whatever I wanted to try. So I realize that a parent being an engineer is not a required criteria in order to raise an engineer.
I've written in the past though that beyond my parental support, I had exposure via physics and that is what ultimately encouraged me to move towards engineering. I think this is another critical element of STEM education which is often overlooked. Namely, if there isn't a structure in place to encourage kids in these fields (outstanding teachers, engaging curriculum at schools), what then? Then it falls to the parents to take over this responsibility. But even earlier than that, a parent needs to recognize whether or not these resources exist in the first place. And before that, they need to understand why engineering is important in the first place and that early exposure is the key to a life of curiosity and scientific understanding.
As an extension of this idea, I began wondering about the larger community and how that affects children. I'm sure children living in cities with Maker Faires and Science Centers have a higher exposure, simply because it's "something to do" on a rainy day (I'm ok with that!). What happens when a community is devoid of scientifically engaging activities and adults that are regularly engaged in science (as work or play)? My point is, this dearth of engineering mindset and scientific careers in a community builds upon itself. I have a hard time imagining children deep in coal mining country have the same opportunities and exposure to science as children growing up in or around silicon valley. If that same child and all his or her classmates grow up and becomes a coal miners, the likelihood of their children having exposure to science decreases because the population shifts away from it as a group. Say one child grows up and decides to become an engineer but cannot find a job in their hometown because there aren't any jobs there, the potential for exposing children to that career stays the same (because the engineer cannot live there). Without stimulus to change the mindset in a community (say an engineering firm moving to town or something similar), the cycle will repeat . Note: I have no qualms with coal mining as a profession, it was just a target because the communities are often in remote areas.
So now to the question (no answers) part of this post: Should we be targeting certain communities over others? Sounds pretty horrible, right? But think about that paragraph above. Perhaps there is a higher return to target areas already rich in exposure to science and engineering which would be a breeding ground for future engineers. Perhaps some communities are better suited to teaching the requisite classes in order to have the students thrive. I don't particularly like the implications of favoring one group over another, but the thought intrigues me because the same amount of effort in a wide range of communities will have varying levels of success. In some communities, STEM promotion efforts will take hold easier than others. On the other side of the coin, perhaps promoting STEM as a method of escaping cyclical employment of certain communities could be a true driving factor in motivating certain kids to achieve great things and become great engineers. I'm personally inclined to give everyone the same opportunities, but I realize the logistical realities of spreading a finite amount of funding and effort too thin. If every child receives just a tiny bit of motivational exposure to STEM topics due to large scale programs, none of them will benefit. So please, let me know in the comments.
I believe the above discussion reinforces my point that the parents are the key in this equation. In the event there is targeted efforts, the kids that are left out require some kind of outside motivation, from parents or other family members. If the finite resources reach all students but are not sufficient to truly drive a student into engineering, the parents need to reinforce the topics being discussed.
So how do we market engineering to parents (non-engineering parents, hopefully engineer parents will encourage their kids to be engineers)?  I have no idea, I just know it needs to happen. In places like India and China, where many new engineers are graduated each year, a large part of it is the positive view the people have of engineers in general. China's leaders are largely engineers and engineering in India is seen as a gateway towards myriad other careers (I have mixed feelings about that). I'd say in the US and other similar countries a good first step is educating the general public about engineering; we consistently find that the general public cannot name a modern day engineer, let alone a scientist most of the time. But much like the discussion above, this might be too broad and ineffective. If you're paying for TV ad time or something similar, its likely a lot of your audience will be old and much more likely it will be lost among the other noise out there. So instead, perhaps targeted education campaigns at parents, during parent teacher nights or other parental activities (might as well get the parents that are already involved in some way). The key is highlighting the benefits of STEM education and careers (because we're assuming here they are not involved in that field), so the parent wants to not only promote it at home to their child, but also participate in advancing that goal. Outside of a promotional campaign, I'm not sure what else to do.
Perhaps you have some ideas on how to better promote STEM to parents? Maybe you think this isn't the direction to go in the first place? Whatever you think, please let us know in the comments!
Thanks to TheWomensMuseum for the scientastic picture above!