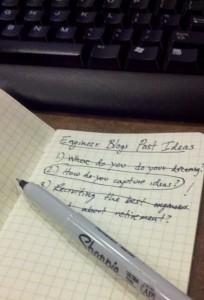 This is a followup post to the question from last week: Where do you do your dreaming and thinking? It was good to look at how myself and others approach the conceptualization phase that precedes any big project. And there really are a lot of places people dream up new project and product ideas. But the next question is: How do you then capture these ideas?
This is an important subject because without a proper recording of the idea, it can get lost in the minutae of every day life. And if you've ever lost what you thought was a killer idea, I'm sure you can associate with that horrible sinking feeling in your stomach. You just knew that the idea you had would have made you a million bucks. If only you had written it down!
Or maybe not! Some people record ideas on non-papyrus means. I think some of this is due to the fact that people learn and think differently. Some are visual learners, some are auditory and some are tactile. There are also many more classifications which are outside the scope of this site (psychology! ack!).
Let's take a look at some of the ways I've captured ideas in the past, or seen ideas captured:
Write it down — A pretty generic, but also tried and true method of capturing ideas. Whether it be a bedside pad of paper that you wake up from dreams and write down your ideas or the moleskine notebook you carry around on a daily basis to quickly jot down notes (yes, I'm guilty of this one, I was that guy). The main idea is that you need to capture your ideas as soon as you have them and you prefer to write them down or sketch them out.
Post it somewhere — A frequently cited method of idea generation is using Post-It notes to capture bits of an idea and then leave them laying around. My co-host from The Amp Hour often talks about "Dave CAD", in which he uses post its to draw out circuit diagrams. I've seen this in a corporate environment as well, when ideas are supposed to be teased out by having lots of ideas on tiny sheaths of yellow sticky paper (I have negative feelings towards events centered around "brainstorming", nothing ever gets done).
Speak up — Some people prefer instead to capture their ideas with a small recorder or talking into their smart phone. I've even seen a service where you can call in and record your ideas for later (outside of voicemail, of course). The benefit here is if you are an auditory learner you can easily translate your concepts to be recaptured later. I also usually imagine songwriters singing into recorders, but only because I think people look funny when they sing into stuff.
Type it out — Another way to capture writing, but not actually stimulate the writing muscles in the hand and brain, is to type it into a computer. In the last article, I mentioned my own inability to usually come up with worthwhile ideas while sitting at the computer. However, I can imagine a scenario where you're at your bench or taking a break drinking coffee and an idea strikes you, so you run to your computer and type it down.
Tap it out — In modern times, we're not supposed to be tethered to our computers anymore, right? That's because we have smartphones, silly!  Really though, when I'm out and about and an idea strikes me these days, I'll usually send myself an email on my phone. It recognizes it's from me (duh) and then categorizes it so it becomes a "to do". Prior to having a smartphone, I did the same by sending myself a text message and would categorize it similarly.
Stream it forward — Morning pages are listed last because they're a way of capturing ideas, but also a way of coming up with ideas. They were proposed in a book called, "The Artist's Way" by Julia Cameron. The idea behind them is that creativity is possible on a regular schedule if you allow a stream of consciousness to happen at a particular time each day; this manifests as you writing 3 pages worth of your thoughts on a daily basis, preferably in the morning. The pen-to-paper connection is supposed to free up the brain and allow for more creative thoughts to flow out of you, even in the bits and pieces in which they often occur.
I'm not saying these are the only ways of capturing your ideas, just that these are some of the ones that I have used or seen used in the past. And I know it's not all of the possible ways of recording ideas because one way of coming up with new ideas–in the shower–still eludes me when I try and think of how to capture it for review later. Perhaps I should put a surveillance camera on myself to talk into when an idea pops up? No, it's probably best to continue running out and jotting the idea down post-shower.