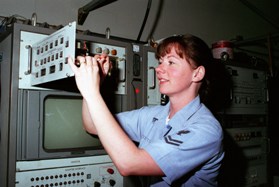 I've been thinking a lot about the variety of authors we have at Engineer Blogs. We have a mix of  academic and industry engineers and each arena provides its own challenges and goals. But one major thing we have in common is probably getting the test equipment you need.
In the photo, USN avionics technician Norton is repairing a test bench (via Morning Calm News). Test equipment can kind of run our lives and our schedules if we aren't careful. Academics are probably familiar with scheduling time at strange hours and working around the other researchers and students who might need to share the same equipment. Those of us in industry have similar issues with whose project takes priority for the EMI chamber or the oven. Does heat treating a production piece after a weld take priority over an emergency investigation of a material that might be failing at lower than expected temperatures? Not to mention when you are working on an R&D project and are competing with the real money making aspects of your company.
So how does one deal with never having enough hours on your equipment to go around? Sometimes managers can start requesting and purchasing their own equipment so as not to share with other departments. This can get expensive and can start a sort of tribal mentality where each pocket of a company is competing against the rest of it. On the other hand, the test that could wait today might become an executive's favorite problem to focus on next week. I often find myself begging or pleading or trying to kiss up to whomever owns the equipment or schedules the test time. On that person's whim my project can move forward or can get frozen for months. And while it's easy to say production should always have priority, it's still important to take care of the emergencies and support a thriving product research system as that is the company's future.
How do you deal with this? Do you have a tough time getting the equipment you need? Does it become about personalities and individuals or is there always a clear cut priority for projects?