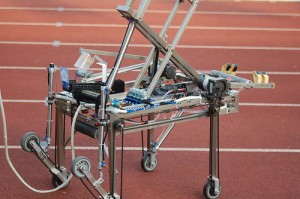 One side effect of coming up with my ideas while running is that I'm influenced by the things I see and hear while I'm running. Normally, it's no problem. I go to a gym where I can run on the inside track and either ponder the engineering problem of the day or let my mind drift. But the other day, I had an issue where I couldn't recall any problems I had been having. Instead, my mind turned to people watching and observing the activities around me. And being a suburb dweller, the primary activity was kids playing sports, namely basketball. 6 courts full of children competing against one another, working with their parents, working with their coaches and striving to be the best basketball players they can be.
So what's the payoff? What do these children expect? I'm sure some of them are just there to have fun. They'll bounce the ball and shoot some hoops and go home happy. But I noticed instead the children that were really competing and striving to be the best. It was most of them. And throughout my run, I watched these kids thinking: why do they bother?
Wow. That sounds like a horribly defeatist attitude, doesn't it? I prefer the term: "realism". Everyone likes the story of the underdog, but if these kids are to make it to the NBA (the final goal, right?) they need to be one of 7 players out of 540,000 of a real real real good 14-year old basketball players on a high school team. And that's per year. Yikes. (Of course, perhaps we should compare it to the statistics of getting to be writer at Engineer Blogs! 5 writers currently out of 6,971,827,623 people worldwide by an estimated by the US census means you only have a 1 in 1.39 Billion of being a writer here. Perhaps you should try for the NBA position after all…).
Anyway, I'm sure you understand my point here. It's not that being the top of your field is a difficult and unlikely thing; that's true in any field as there can only be so many at the top. What I'm trying to point out is the extreme effort and focus put into sports in childrens' lives (my own childhood included) are ultimately a waste and one that doesn't benefit the world in any way (save for the "teamwork" aspect, perhaps). If a student stops playing basketball after years of hard work, what does the world gain? Perhaps another fan of the sport that can help buoy the sports viewing industry?
So now the questions for you, dear reader: What does the world lose if we transition from sports-based recreation to engineering-based hobby and recreation? What happens if instead of each high school not having a basketball or football team (and the gobs of funding that often accompanies it) but instead has one or many FIRST robotics teams? What if the focus was not on the best crossover dribble or fade-away jump shot, but instead the most structurally sound 3D printed component of a robot or quadcopter that needs to complete a particular task? What if our college athletes got in trouble with the NCEA (National Collegiate Engineering Association?) not for skipping classes in order to be on the football team, but instead because they needed to finish their 60 foot robot? (akin to the violations often seen by the NCAA) 
Maybe I'm being ridiculous. Perhaps I didn't understand the true value in sports in high school (which I should mention I played throughout high school) and I'm missing the point behind those kids at my gym competing. Maybe the interest would never be there and the students would not participate. Regardless of what I think, I want to hear what you have to say. Would engineering-based "sports" be a viable alternative to the focus put on athletics these days? What would we lose or gain in the event the world suddenly switched? Please let us know in the comments.
Thanks to zilupe for the robot picture.