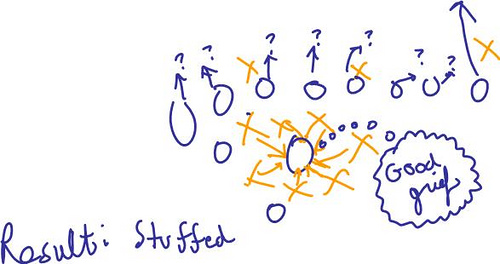 As an engineer, it's common to hear moaning about the way that a manager or supervisor is making decisions. Hell, there are entire cartoons dedicated to the constant struggle between management and engineering (and many other departments and engineering). But oftentimes the complaints heard are generic and can be attributed more to human nature and the struggle against any type of management or direction, as opposed to poor engineering direction. While I still contribute my fair share of griping and moaning, there is only one type of behavior that truly upsets me: The MBA Playbook.
I have referred to the MBA Playbook in many different contexts before. On my radio show, in my long dormant blog and I believe even on Engineer Blogs before. The basic idea is that there is a book handed out to all the students on the first day of class at most business schools. They study the situations through case studies and past findings. Then they study the "best practices" and how to determine which situation warrants that "solution". Then they work on their best way of breaking the news to their underlings. In all of this, I see necessity. In fact, much of these same ideas are implemented in an engineering classroom. Lots can be learned from past situations and applying similar solutions to your own problems. However, it's not this method of learning I take issue with. I take issue with people that never deviate from the playbook. Who never venture into uncharted territories and take new risks by trying something different. And most importantly, I take issue with people who use it as a crutch in hard times.
The key example is in the Great Recession, starting back in 2009. I believe the MBA playbook exacerbated an already horribly complex financial problem. Here's how I saw it going down in multiple companies:
News of the financial crisis filters down into the business side. This means that money might be harder to come by and business might slow.
In preparation for these slow times, business forecasters start to forecast fewer and fewer products moving off the shelves, both in holiday and non-holiday seasons. There is no evidence for this, it's a forecast based upon other predicted behaviors.
The CEO at Widgets, Inc pays good money for this forecast report and decides that the Widget business is in for big trouble. He consults his MBA playbook and "decides" to freeze hiring and capital expenditures. He tells the product managers not to spend any money unless completely necessary. The product manager who had been planning to buy new industrial equipment from MoveCo, Inc to build out Widget, Inc's latest product is put on hold.
The CEO at MoveCo, Inc learns that they just lost the big order they had been expecting from Widgets, Inc. He consults his MBA playbook and determines that this loss in revenue means that he has to bypass the slowdown measures. He consults with his managers and lays off the bottom 10%, as determined by others. He also institutes a hiring freeze and a 20% pay cut. He pats himself on the back for not having to lay off more than 10%.
The 10% of laid off MoveCo workers join the ranks of the unemployed along with the 10% laid off from ShakeCo, BuildCo and BreakCo. The remaining workers still employed at all these companies become extremely nervous about getting laid off as well. Everyone decides that the Widget, Inc product that just hit the shelves isn't an essential and decides to put off the purchase for a while.
The Widget, Inc CEO sees that the product sales are way down and thinks that his playbook didn't tell him to do enough. He moves to the next step and lays off 10% of his workplace as well and puts in a 10% paycut.
So how do I know that Widget, Inc's CEO wasn't acting on instinct and experience, as opposed to following a playbook? Because, as seen in the story above, there were other companies doing the exact same thing at the exact same time. In fact, in my experience during the 2009 downturn, it was similar between industries as well as within them. They each took increasingly drastic measures, in all the same increments, with all the same casualties in the employee ranks.
Interestingly, this and many other economic problems can be viewed as a feedback system (well, because they are) but also can be analyzed in a similar manner. That's a different topic and definitely a different blog post. And in all of this, it's not to say some of the actions taken weren't necessary. Only that with a control system that is teetering on the edge of instability (through confidence in the markets or whatever it might be), non standard operations may be required to be successful. And refusing to do so and come up with new ideas means that you may create a self-fulfilling prophecy (bad business, everyone losing jobs) in the end.
To close, I should note that I've never been to business school and likely never will. I think business school has value, but much more so in making connections and networking in general. However, I disagree with the formulaic binning of situations into pre-determined acceptable responses. I believe it hurt the economy in the past few years because the responses were not correct for the situation.
Have you seen pre-canned responses from management teams before? What kind of response would you have had if you were in charge and able to change things?