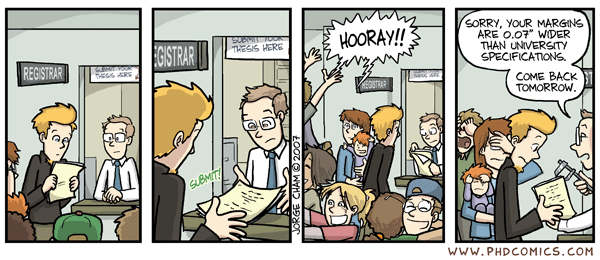 When finishing up my MS, I went to talk to my advisor to discuss the possibility of doing a PhD.  He told me that, unless I had a very good reason, he never recommended going for a PhD.
In engineering, someone with a master's is usually considered a bit more experienced and knowledgeable than someone with a bachelor's…but a PhD has just plain had too much schooling (or they're too expensive…maybe both!).
In the past, I've had students ask me about grad school, and I've generally responded favorably.  However, my thoughts on it have been changing based on my advisor's advice: don't go for a PhD unless you have a good reason.
Why?
There's a good chance you won't finish…especially in electrical engineering.  Your chance of completing a PhD in ECE is about the same as flipping a coin and getting heads.
Granted that the data is a bit old, but the Council of Graduate Schools has accumulated data on PhD completion rates and found that, for some fields, completion rates are not all that great.  For engineering specifically, they found the following completion rates at the end of ten years:
| | |
| --- | --- |
| Biomedical Engineering | 62.9% |
| Chemical Engineering | 63.3% |
| Civil Engineering | 77.6% |
| Electrical and Electronics Engineering | 55.5% |
| Mechanical Engineering | 65.8% |
(If your particular sub-field wasn't listed, don't feel bad.  I couldn't find geology anywhere on the list!)
What's interesting is that the overview of the project states: "Research has shown that the vast majority of students, including minority students, who enter doctoral programs, have the academic ability to complete the degree."
It's sad that they had to bring up that minority students are not exempt from being qualified.  But what's sadder is that means most of the students who are not completing the degree are academically ready to pursue the work.  The reasons have been tied to a series of institutional practices.
I know there are a lot of professors in the blogosphere who lament the poor quality of students and feel no regret at flushing out the 'inadequate' ones.  However, it's interesting that research pointed to several institution-level processes that made student success more likely…indicating that the support a student has may actually play a larger role in the students ultimate completion.  (My personal observation is that this is the case, especially if the student had a poor relationship with hir advisor.)
Another issue which I'm not sure has been explored is the impact of 'outside factors', and I imagine that the state of the economy may be a good one.  One can look at this data collected over a decade ago and wonder if there is a correlation between the low completion rates for electrical engineers when compared to other engineering disciplines: could it be that the tech boom that was occurring during that time, and EEs could make a lot of money going into industry relative to other engineers?
So what do you think?  Should I start discouraging students from considering graduate-level work?