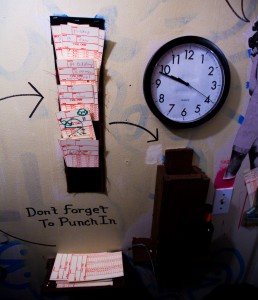 The upside to the end of the week is I feel justified calling my pieces a "journal" (eh, they're a bit longer most weeks than the would be if I wrote during the week, so that helps me justify it internally too). The downside to posting at the end of the week is that all the good topics are taken by my cohorts. And they wrote about some great stuff too! I identified particularly closely with Cherish's explanation of how hard it is to sometimes get started on projects, even with looming deadlines. However, there's one area of work when the deadline cannot be put off and you simply cannot procrastinate: when there are problems in a manufacturing environment.
I work in a manufacturing environment daily. I'm not a manufacturing engineer, but I'm expected to interface with them regularly. And when problems come up, there's little time to lose. Why?
When there is a problem on the shop or manufacturing floor, it can have many far-reaching effects. Imagine a 300 step process, as is common in silicon wafer processing. For every minute that the 1st step in the process is down, it sends a ripple into the entire manufacturing process. Since each step is required, you cannot inject products halfway through the process. So if the first step is held up by 30 minutes, that's 30 minutes worth of total product that is not being produced by your factory; more if other delays crop up later. This can also cause problems if the stoppage happens somewhere in the middle of the production line. If step 150 of 300 is broken, inventory being produced in steps 1-149 begins to build as the problem is being resolved. This can cause a storage problem. If certain processes are time sensitive (as many are in wafer manufacturing) some of the previous steps may need to be slowed down to properly schedule material. This reduces the overall output of the fab, because the full capacity of the equipment is not being utilized. In fact, there is an entire field known as Six Sigma, which analyzes and tries to optimize process capability. Reaching 100% utilization is almost impossible in most facilities, but the study of process capability aims to move towards that number.
The real reason behind the urgency of all manufacturing problems is money. Few other fields see such a direct impact on the bottom line as manufacturing. If you stop producing products on a Monday, each hour that passes represents a dollar amount equal to how much product you had been able to produce previously. If you were cranking out 100 development kits a day and were able to charge $500 for each one, a day of unresolved problems on the manufacturing floor represents a minimum $50,000 loss. Why a minimum? Because delays also affect your sales chain; for every day the production is delayed, a salesperson needs to quote the delivery date of the development kit one day later. If this delay gets big enough, it can begin influencing sales because the customers may not be willing to wait for when a kit is available. There is a separate field dedicated to optimizing delivery of parts and products, known as supply chain management.  This is a cruicial part of any engineering business.
All of this means that my deadline is often quoted as "as soon as humanly possible". This is where the true engineering skill becomes apparent. It extends beyond the ability to identify and fix the problem at hand, though these can often be difficult problems. Let's continue using the development kit example used before (where I will be playing the engineer in charge of designing and manufacturing this kit). This particular development kit is meant to show off the capability of a new linear regulator (not much a kit). The first problem is that your purchasing people cannot get the particular resistor you need in order to properly set the output voltage. You, the emergency engineer, are called to the floor and quickly told to find a replacement. You can easily find one in a distributor's catalog and can get the part listed in your company's internal part system, but that's not the problem. The real problem is making the decision to go ahead with the change. Do you slow everything down so you have time to do sensitivity analysis on your design change? Do you test or retest changes to a product or process to ensure the problem is truly fixed? Or do you confidently declare that the design change was properly analyzed and that there will be no problems that will affect these kits once they are in the field. The reason you have so much concern is that you know that 1 day hold may cost $50,000, but that cost can quickly be offset by preventing a product recall which can easily become many multiples of that number. If you make a change that has a slight problem that goes unnoticed for 1 year of manufacturing and you must then recall all the units, that could easily be 365*$50,000 = $18.25 million. So do you slow down and analyze or do you have the courage to make a conclusion and move forward with your changes?
Manufacturing problems can cause headaches and heartburn. But the value of a quick decision to meet a deadline is often offset by the rationality of engineers who are forced to decide while under great pressure. Make your decisions quickly, but make sure you understand the consequences of your decisions.
Have you ever experienced manufacturing deadlines that are immediate? What actions did you take or were you forced to take that possibly backfired? Did it end up costing more in the end? Let us know in the comments!
Thanks to Philo Nordlund for the timely picture…