I had a situation this past week where I ran square into a corporate policy. An engineering event I was planning fell completely flat and was outright rejected because of a predetermined standard at my company. The event was cancelled and I ended up looking silly to my (engineering) co-workers to whom I had promised this event. In the end, it wasn't the end of the world that the event was cancelled, but it was enough to make me ponder corporate policy and how it is applied.
So why is there policy in the first place? Why do they have these standards?
Sometimes they're common sense items, the kinds of things you'll see in an "employee handbook" when starting at a company. Human Resource (HR) departments glean ideas from past companies or shared material that makes sense for the business. For example, not allowing an employee to simultaneously work at their company and a competitor makes sense from a business perspective. It doesn't seem likely that someone would do that, but it needs to be in writing somewhere. Other times, policy is written because they've experienced someone hurting the company in the first place. If a company didn't have a policy about working for a competitor at the same time as working for that company, it is almost guaranteed that after catching an employee trying to do something like that, a policy will be written. From then onward, this becomes the standard for judging actions.
While the example above seems to make sense (who would work for two different companies at the same time?), smaller things start to quickly dive into gray areas. Since I'm not willing to divulge the specifics of my situation (I nearly got in trouble the first time  for the corporate policy silliness), let's use a stand-in example. Let's assume I was trying to rent a bouncy castle for a social event with the engineers at my company: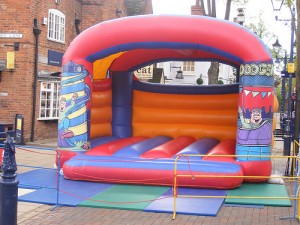 For this example, I'm looking to provide some fun for the other engineers at my company. And we all know how much fun bouncy castles can be (unless you're an unfortunate soul that has never been on one). Let's start with the money aspect. Assume the bouncy house costs $1000 for 2 hours. I judge that this would be a good use of company money to do some team building (it's a hypothetical here, don't judge my money decisions…). This is where I start to run into pretend policy problems. First off, I only have the buying power to purchase things less than $200 without getting permission. Perhaps in the past someone went on a shopping spree with the company credit card or something. So I need to go to a manager to get approval. This is where the questions start. The manager approves of the expense ("What a great deal!", he says) but since he makes the approval, he wants to talk to the company's safety officer (because it could come back to him eventually if he doesn't). The company safety officer takes one look at it and is reminded of when someone rented swings a few years back and someone fell off and hit their head. He says that he'd be ok with it, but since there is a policy about moving items at company events, everyone who goes on it needs to sign a waiver of liability. Because it could come back to the safety officer, he also says there needs to be a security officer at the event to enforce the waiver policy. The waiver forms will be going to HR, as will the temporary job requisition to hire a security guard. The HR manager hires the security guard and files all the necessary waivers, but realizes that the bouncy castle will be on the grass out in front of the company, so he wants to talk to the facilities manager. The facility manager approves of the castle, but only if his budget is increased to buy more grass seed the following year. When the swings were here last time, the grass got ripped up and he had no way to plant more and later got in trouble for having bad looking grass. Since this approval is budgetary, it needs to go to the president of the company, because that's who the facility manager reports to. The president doesn't mind paying a little bit more for the grass seed, but is really worried about how silly a bouncy castle will look out in front of the company. He decides to play it safe and call off the whole thing. Instead, he says "Maybe those engineers can get by if they do team building over a pizza. The company has no problem paying for that…and that's how we've always done it."
Granted, the above examples is a silly situation. but I'm sure you can relate. It's frustrating having to "run things up the chain", getting more and more approval. At every step of the process, there's a gatekeeper who you have to convince that the risk associated with a bouncy castle is far outweighed by the awesomeness of a bouncy castle. And it begins to affect the business in other ways as well. Microdecisions are an economics concept that talk about the collective choices you make on a minute by minute basis. And they can add up to big changes. If everyone in a company always plays it safe and isn't willing to take any risks, products and services are bound to get stale and revenues will begin to dive (i.e. your company will not be the one coming up with "The Next Big Thing").
So how might you, the engineer, deal with corporate policy? Especially for things that you know will be innocuous to both you and your company? The most obvious solution is don't ask. I had never heard the phrase when my co-host on The Amp Hour first said, "It's easier to ask forgiveness than it is to ask permission." This seems to be universally true. Once you start asking, you're bound to run into one or two people that can think of the worst case scenario and reject the idea. And often it only takes one "no" in order to squash something that could help, be it employee morale (see the bouncy house idea) or a new product that could open up new markets.
I maintain that big companies should act like small companies in their day to day operations; but I'm realistic about big companies having policy for a reason. So another option is to not work for a big company. Small companies often have much more flexibility because they don't have policy in place. That's not to say they won't ever have it in place, just that it's not in place yet. As companies grow, I think it's realistic that policy will fall into place. Still, if an engineer is upset about working somewhere with restrictive corporate policy, small companies offer more freedom. It should be noted though that there are tradeoffs associated with less policy: namely you shouldn't complain when one of your co-workers rents the nicest bouncy house he can find on a Tuesday and blows $20K of company money (c'mon, it'd be worth it).
So what about you? Have you ever run into corporate policy that really put a damper on your spirits or your plans of bouncy castle awesomeness? Let us know in the comments!
Thanks to eli brown for the bouncy picture.