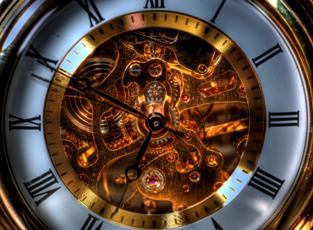 What if every person's perception of time was arbitrary and completely different? What if what seemed like months to you felt like days to someone else? I'm not talking about psychology here, I'm talking about this week's theme: deadlines.
The academics here at Engineer Blogs already weighed in with things that are familiar to their world; Miss Outlier talked about long term deadlines, GEARS talked about procrastination, and Cherish talked about the difficulty of getting started. Paul Clarke gives some tips about dealing with deadlines and whether to approach them as the tortoise or as the hare. Unlike academics most of my deadlines are much more short term. Sometimes you get two days to pull off a major design and drawing change and sometimes you get two hours to put together part of a report an executive is going to see.
My issues with due dates are often that different people have different ideas about what's reasonable and what's possible. First, an engineer in another department probably doesn't care about your project or your design change. It's not his priority, he's not going to put in the time you might think he will. Secondly, there's that project engineer on a research project. Her timelines are way different from yours. She's used to waiting for designs and analysis to take a long time. But often she won't understand why you can't get her a part or a software upgrade in a day or two. After all it's just a piece of hardware, not something that requires thinking.
And lastly, managers never have the same sense of time that their employees do. You got your last promotion five years ago but in the manager's eyes you just started in this job and still owe him one for getting you that promotion. But when he asks you for a comprehensive report on something and you're juggling it along with ten other priorities he won't be so understanding when he comes to you at 15:00 a few days later and you don't have it completed, polished off, and ready for him to present as his or his team's conclusions to his superior.
The point is you need to be clear with people when you can be. You need to explain what's feasible for what you can deliver and what you can expect. But you also need to be forgiving of other people's expectations or in the case of management at least accept the things that you can not change.
I'm interested in hearing everyone's personal experiences with this. Have you ever had a boss give you a completely unreasonable deadline or dealt with a colleague who you couldn't get in line with your priorities?
(Photo via Zorin Denu)