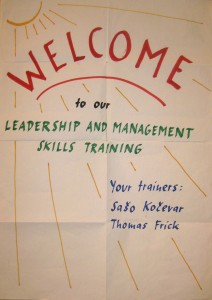 Once a year, my school provides a Professional Development Seminar for postdocs and late-stage PhD students. It's a lottery to get in, and this year I got a spot in the class. I was really excited about this opportunity – the class is taught by professional (of course) teachers, and is only open to 12 people, to keep the setting personal and interactive.
I wasn't sure what to expect out of the workshop. As I understand it, companies in industry will sometimes provide these programs to their employees, to develop them for management. The program that I participated in, however, was a program normally geared for professors.
I didn't know that there were development seminars aimed at professors – and man, what a good idea. The skills involved in being a professor are quite different that the skills needed as a student, even a PhD or postdoc student. You have to run a lab, write grants, and most importantly – manage students. New PIs hardly ever know how to manage students effectively. It also makes sense that if professors need training, then postdocs and PhD students could also benefit. Why not teach them the skills BEFORE they need it, not AFTER, right?
So it was with anticipation that I looked forward to the day of the class. The title of the workshop was, "Leadership and Management Skills Training," and it was held over two long days of a weekend. I was especially curious what the content would be.
I was pleased to find that for some sessions, I already had a handle on the content. In particular, the session on "expressing your goals" I did very well on, because I've taken entrepreneurship classes, where the whole point there is to distill your message into a clear, inspiring pitch.
The session I found most interesting was one on the different types of leadership. You take a survey, and it tells you which of three management styles you most naturally fall into. The three styles were Task Oriented, Individual Oriented, and Team Oriented. Those are fairly self-explanatory, but just to illustrate, here was one of the questions from the survey.
In a meeting, the leader should:
A) Focus attention on the agenda.
B) Focus attention on each person's feelings, in order to help the members express their emotional reactions to the issue
C) Focus attentions on the different positions members take and the ways they deal with each other.
Those three answers correspond to Task, Individual, and Team leadership styles, respectively.
Now, I didn't even realize that there WERE any other options besides A). Not surprisingly, eleven out of twelve engineering students were Task Oriented leaders. Because, well, engineers are trained to be problem solvers.
In the end, I think that the class was very useful for students who had never had exposure to management classes at all. But it was very basic, and because I've taken a handful of courses in the business school at my university already, I felt like I didn't really learn much. Perhaps that's good (I'm already learning skills!) or maybe that's just arrongant, but either way I'm glad I took the class.
Does your company, or school, offer any opportunities for professional development? Do you think they should, or have you learned everything you need on your own?