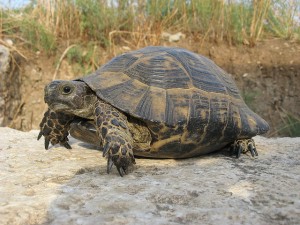 The theme of the week is deadlines. As I was thinking about the deadlines in my life as a grad student, I realized that on any given day, or week, I really have no deadlines. My deadlines are all long-term. For instance, the main deadline for me now is graduation with a PhD by next June. Before that, it was to pass qualifying exams, and perhaps you could also count the final project of classes each term as a deadline. But really, I don't have TPS reports waiting on my desk for me Monday morning. Before all of you readers roll your eyes and tell me I have no right to complain at all ("Do you KNOW what I have to deal with each week??"), let me point out a few things that are unique about dealing with long-term deadlines.
Mentally Dealing with Long Term Deadlines
I think it takes different mental strategies to deal with short-term and long-term deadlines. I have friends who have gone to work in industry, and I hear stories about, "man this week is going to be rough – we have 100 units due by Thursday." Or friends who have gone to work in finance, who talk about "I don't know how I'm going to make it until the end of the week – I've been working 18 hours days for the past four days on this new client." But when I hear those stories, I also hear an END POINT. Yes, this week might suck, but you also know next week the situation will be different.
If your deadline is not until three months from now (a conference paper, say) then you can work a straight week of 18 hour days, and still feel like you are underwater. If your experiments to get the data for the conference paper are tedious, then you have three straight months of painstaking work ahead of you. And while my friends in finance can go party on Friday night because they've made it through their deadlines, I can either a) not party and keep working, or b) party with the knowledge I still have lots of work to do. At some point, you have to come to mental grips with the fact that your work strategy is more the tortoise than the hare. Instead of grueling hard work followed by carefree partying, you have to prepare yourself for steady work, punctuated by free time and fun where you let yourself relax with no guilt.
Practically Dealing with Long Term Deadlines
So if you know you have a deadline coming up in three months, or a year, it's important to have a plan. I've heard people use the philosophy, "It's okay that I procrastinate, because that makes me most efficient when I work under pressure at the end." That philosophy works until you hit a project that is too big to handle at the last minute, or until you severely miscalculate the amount of time it will take you, even under pressure. So most long-term deadlines are best approached with smaller deadlines along the way.
Classwork is already structured this way. Most advanced classes in engineering involve a term project, or a final test (or both – eek). During the term, you have mini-deadlines along the way in the form of midterm tests, reports due, and lab projects. So you build up to the main long-term deadline, and by the time it comes around you are (theoretically) prepared. When working on research in progress toward graduation, you can do your best to break it into discrete chunks or milestones. Then  you can use a Gantt chart or other method to plan our your progress.
But the main point is that you have to be disciplined. Because ultimately, these mini-deadlines are self-imposed. Nobody cares if you hit the mini-deadlines, only that you hit the main one – so you have to resist the temptation to slack off and not hit the midterm milestones, otherwise you will be in trouble at the end. Which brings us to:
Stresses Involved with Long Term Deadlines
If you haven't been patient and well-organized and steadily working towards your self-imposed mini-deadlines (and let's face it – who among us can be that saintly all the time?) then you are going to get close to your main deadline, and realize you are behind. And that, my friends, is rough.
Knowing that you are not going to make your deadline, even if you work your BUTT off in the time you have left, and that it is YOUR fault and nobody else's – that is crushing. I'm not sure if that is more stressful than a cyclic situation (meeting a deadline every Friday), but it is different to deal with.
__________________________________
In the end, I have to say I prefer having long-term deadlines. I think those who are in grad school have self-selected to be also self-directed and self-motivated, so I do my best to keep making steady progress. And I like the flexibility it gives me to work hard when it's convenient, and schedule around fun things I would like to do.
If you have long-term deadlines, how do you deal with keeping motivation, making progress, and handling the stress?
Thanks to frefran for the tortoise picture