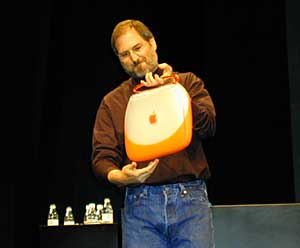 Today I must bid goodbye…not to the EngineerBlogs readers, but to Steve Jobs.  For those who have not yet heard (because I know EngineerBlogs is the first site you read each day), he is stepping down as Apple's CEO but is hoping to stay on as Chairman.
Apple's shares started diving.  Not a surprise.
I have to confess to being an Apple fangirl because so much of my life has revolved around using various incarnations of Macintosh computers.  I sure hope it's not because I'm a mindless follower.  I'd actually used PCs most of high school, but I came to Apple through engineering.  I was taking a digital systems class as a freshman in college, and the course required us to use a program which allowed us to do visual programming with boolean operators.  At that point, Macs were significantly more advanced in the visual interface, and so the program only worked on Macs.
I left college for a while and became a self-employed web programmer.  This was in the mid-90s, when the web was still new and shiny.  Very few people knew what HTML was, and I found that Apple computers were the only ones that had software like Photoshop and Illustrator.  A few years later, I went back to school for physics.  In my first semester, I bought one of the new iBooks (the tangerine one) just before Matlab and Mathematica decided they were going to discontinue their mac versions.  Just when I thought I would have to break down and buy a PC, however, Apple introduced MacOSX, and I was saved.
In the past couple years, I've tried getting MP3 players and touchscreen phones, but they were not terribly reliable.  My iPod seemed to be made of steel, and my iPhone works better than anything else I've had.  And I, of course, will take my MacBook over my Windows box at work any day.
I'm a fangirl.  But I'm a fangirl because I've tried a lot of other products and been very unhappy with the results.  Apple products have worked well for me and are very reliable.  I've had more than one laptop last nearly a decade…even past the point where they were given to my offspring to use, which is when the real abuse started.
All of this has, as everyone knows, centered around Steve Jobs.  It's nice that there's someone out there who seems to design things to work for the average person instead of the average engineer.  As much as engineers are smart people, they tend to design things to work for other engineers and fail to realize there are some people who don't think like they do.  A lot of people I know like to complain about how Apple is driving the market (although it was okay when Microsoft did it, apparently), but I think the reason they're doing it is because they generally have high-quality, usable products.  I can only hope that they maintain these standards with Jobs leaving…kind of.