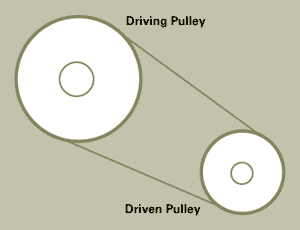 Belts and wheels, wheels and belts – mechanical engineers use them in all sorts of places. Belts are used to transmit power, and in particular to transmit power long distances, around corners, or in other funny situations where other solutions won't work. Some common examples in varied applications are the treads for heavy vehicles (tanks, bulldozers, etc.), the timing belt in your car, and drives for robotic arms and legs.
Historically, belts were used to transmit power to machines across an entire machine shop floor when the source of power was a steam generator. Or, belts were used to transmit power from a steam-powered farm tractor, to another piece of farm equipment. For example, here's an old tractor that is hooked up to a belt – you can't see it, but it's attached at the other end to a threshing machine.
But here's the problem – unless the wheels are aligned JUST RIGHT, the belt is going to slip off the wheels. What can you do about that? Well, drive belts have been around for ages, so people have come up with lots of methods. A few of them are:
Timing belts
Timing belts are belts with grooves at regular intervals, used with wheels with corresponding sprockets. The grooves and teeth hold the belt tightly in place. In an Audi A6 car, that might  look like this:
Inside the Roomba vaccuum cleaner, it looks like this: (Update: this is actually not a timing belt, I mis-categorized the picture. It looks more like a solid round belt, or O-ring belt.) 
For a CNC stage, for instance in the laser cutter in my lab, a timing belt is used to move the laser around in the X-Y plane.
V-grooves
Instead of putting teeth and horizontal grooves in the belt, you can also use a belt shaped like a "V" and a wheel with a matching V-groove. This has the advantage that nothing jams if the belt slips a little bit. And if you think about it, a timing belt could still slip off the wheels sideways, but the Vee belt stays securely in place. This is perhaps the most common belt today, and is used in your car's alternator as the fan belt.
Crowned wheels
But I think the coolest thing is what they came up with waaay back in the old days – back before gas engines, when power was created with water wheels and steam generators. There were HUGE wheels and belt drives back then, used in manufacturing and farming, that drove everything from lathes to grain threshers to saw mills.
And the belts were flat. There was none of this fancy grooved business, or complicated trapezoidal shapes. A belt was a belt – a flat piece of strong material.
Now, particularly when sometimes the belt is long and convoluted around several wheels, how do you keep THAT from sliding off the wheel like the picture below?
The answer is: you crown the wheels. Intuitively you first think that you need to make the center of the wheel concave, so that the belt would stay in the middle. But it's a "law of belts," if you will, that they will always ride the highest point. So if you make a wheel shaped like this, the belt will actually run off the side almost immediately.
What you need to do instead, is make the wheel shaped like this:
See how both of those have varying degrees of camber? The middle of the wheel is higher than the outside edges (doesn't have to be much). That way, a belt running around two wheels will naturally center itself on the highest point – the middle. Pretty slick, right?
_____________________
When I was an undergrad taking a class on making robots, many of the teams decided to make robots with treads like a tank. And not surprisingly, many of the teams ran into the problem of the treads slipping off the flat wooden wheels they were using (particularly when turning the robot). Some teams figured out the crowning trick (just takes some judicious sanding on the wooden wheel to accomplish – not too hard), and some teams just got really frustrated. In fact, I heard one guy exclaim, "Can we just STAPLE the treads to the wheels?"
Yeah, not sure that would work. 🙂 But, hopefully that team eventually figured out one of these methods. Because belts and wheels, man, they've been around a very long time, and it pays to know what your options are.