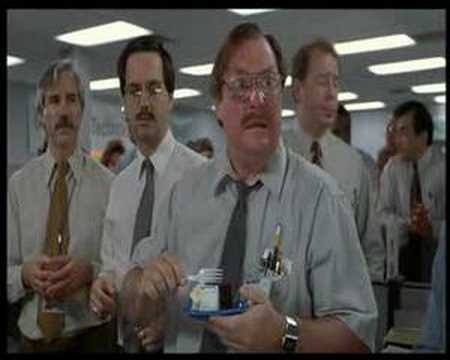 Last week I organized the annual lab barbeque for my research group. My research group has eight professors, their students, and assorted staff, so it's a fairly big event. We rent out a BBQ pit, make a Costco run for food (burgers, bratwurst, peppers and corn for roasting, watermelon, chips and dip, etc.), and this year we brought a volleyball net. Actually by the end of the evening we had a six-on-six game going, which is pretty good for a group of non-athletic people! The event was low-key, easy (it's just food and a volleyball net!) and everyone had a good time. In short, it was a good bonding experience, as social events with your coworkers are supposed to be.
But it's not always that way. Candid Engineer has talked about her lab group's annual beach party, and the summary is that any event involving bikinis and coworkers is a recipe for awkwardness. When I worked in industry for internships, there was an annual baseball game which I hated because I am no good at baseball, and everybody I worked with took it very seriously when I flubbed up catches and struck out. And of course, office Christmas parties are endless sources of inappropriate stories in popular lore.
So what is the appropriate way to hang out with coworkers? Ideally you would have friends outside work for social events, but let's face it – most of us spend most of the day with our coworkers, so it works better if you have at least cordial relationships with them. Does your office do birthday parties, a la Office Space? Do your bosses sponsor social events outside work? Do your coworkers invite you over occasionally for dinner? And if not, do you wish those things would happen?
Today is Independence Day here in the US (and Boston is a particularly good city for this holiday's festivities), so I'm throwing a party for my friends for watching fireworks. A lot of my friends include people I work with, and fortunately there isn't any akwardness with that – we're all students, so I think it's a different situation than with an office where your coworkers are all in different stages in life and career.
So what are you doing this weekend? Spending it with friends? Coworkers? Hopefully whatever it is, you enjoy it.