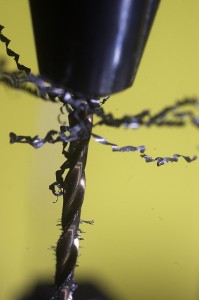 One of my favorite aspects of being an mechanical engineer is that I get to build things. When I was a young kid I took apart my potty training chair, and ever since I've had a penchant for both destroying and putting things back together again (the latter much to my mother's relief). My Dad has the same tinkering tendencies, and so I grew up with plenty of places to work on projects.
Being so mechanically minded, I sometimes forget that it is a character trait – but not the only one, or the best one, or even a common one. Much of the population has no feel for mechanical things at ALL. (And please note, my mother is one of them – this is not to criticize or put down, but simple observations.) And the best place to witness this, to me, is the machine shop.
Most mechanical engineers take a class in undergrad where they learn to use the machine shop, but the amount of training and use of the shop varies highly with the program. When you take into account that grad school includes international students with varying levels of hands-on shop experience, and also students outside of mechanical engineering trying to do research, the machine shop in a graduate research program becomes a highly entertaining place.
I watched one day in disbelief as a girl tightened a tap into a drill press, turned it on, and pressed the whirling tap into a hole in a sheet of aluminum she was holding with her bare hands. Well, TRIED to press it in. A tap is meant to turn very slowly, and only drill bits are meant to be used in the drill press – so using the tap at high speed simply grabbed the sheet of aluminum out of her hands, where it started spinning wildly until the machine shop guy ran over to hit the red button and shut the machine off.
One of my friends came into my office to ask my opinion on his project before he began – which turned out to be a good idea. He needed to make a part out of a very stiff material, so he had ordered tool steel. Then, he was asking me what kind of drill bit or lathe tool he should use to machine the rod he had purchased. Well, actually, "tool steel" is what they MAKE the drill bits out of – so it's going to be tough to machine it!
Many students don't realize that plastic has different machining characteristics than metal, so I've seen people on several occasions try to drill a hole through plastic with a standard drill bit. Thinking it will be easy ( the material is so much softer than a metal, after all), they don't realize that the drill bit tends to suck the plastic sheet up the bit (particularly on large holes), and it takes a tremendous amount of clamping force to keep it down. The net effect is usually a sheet of plastic spinning wildly, and hopefully the student is quick-witted enough to hit the shutoff button…
Stories like these are easy fixes – to machine tool steel, your choices are either a) to go to a diamond-coated bit, or to choose another stiff material that is NOT tool steel. To drill plastic, either clamp it in a vice or use a drill meant for plastic. The key is to recognize silly mistakes from serious ones.
The worst thing I ever did in a machine shop was leave the chuck key in the lathe chuck and accidentally turn it on. In my undergrad, we were beaten with the idea that you ALWAYS keep your hand on the chuck key when you are using it. You would be thrown out the machine shop for a week if you violated that rule. And it was for good reason – a flying chuck key can impale you, and it's easy to forget when you are working quickly or distractedly. Still, I did it once. And my only excuse is that I wasn't using it for the standard reason (to open and close the chuck jaws), I was using it for leverage to tap the inside of a pipe. But that is no excuse, and I felt sick to my stomach when I heard the clatter of that chuck key flying into the lathe scrap bin (nobody was hurt, the best possible outcome).
What mistakes have you seen people in your field make?