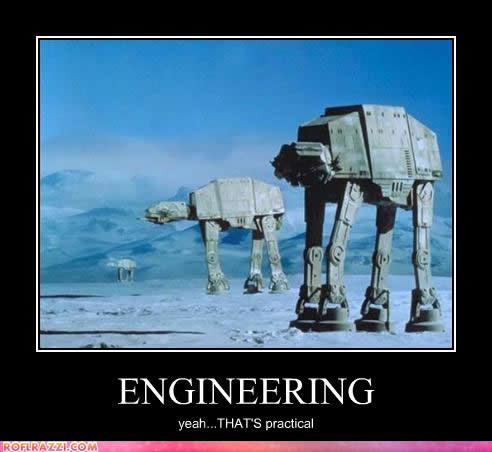 Today, I was discussing a dilemma I've been struggling with.  When funding gets tight, you constantly have to evaluate whether certain equipment or services are really worth the cost.
When money is specifically laid out for some purpose, it's a very easy decision to make.  If you have to spend the money on a widget, and money not spent on that widget must be returned to the funding agency, the question is a no-brainer.  You buy the best thing that you can get.  However, when the money is coming out of a general use fund and could potentially be used for a lot of things, it becomes the kind of question that leaves you in mental gridlock.
I was discussing the problem with a couple colleagues, and one surprised me by saying, "I'm a died-in-the-wool engineer.  I believe that you should get the best equipment you can possibly afford."
I'm not sure what most people think an engineer is, but this is actually 100% opposite of my experience.  I believe that engineers are inherently good at solving optimization problems.  That is, if you're dealing with several constraints, you must spend some time evaluating the best outcome for those constraints.  In essence, good engineering is a balancing act, weighing things like performance versus cost versus quality…and so on and so forth.  It would be nice if we could always go for the high quality items that are uber-expensive, but I'm not so sure it's worth it, especially if you can do the job for less money or effort or what have you.
So what do you think?  Is quality the most important consideration when you're an engineer, or do you think your job is a balancing act among several constraints?