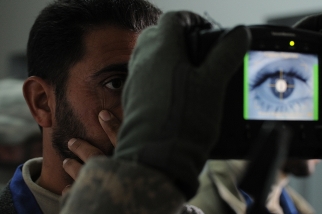 The Military's been busy using technology to combat terrorism. No they're not building a new super bomb or tank it's actually a biomedical device straight from consumer applications.
It looks like a digital camera or like a Star Trek medical tricorder. It's the HIIDE or Handheld Interagency Identity Detection Equipment. US and NATO forces are scanning irises and getting fingerprints from hundreds of thousands of Afghans. It started as a program to collect information on prisoners but progressed to where ordinary people were getting scanned in. It's an attempt at limiting movement of insurgents and getting positive ID on a population where that's proved illusive thus far.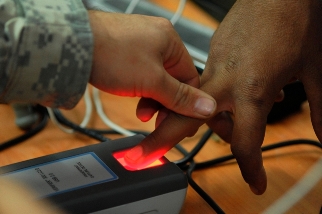 It's hard to see how anything like this would fly in the states. It does come across as an incredible invasion of privacy. But then again, asking a US citizen for a government issued ID without any reason has become perfectly legal in many states lately. And allowing the military to successfully identify Afghans should allow them to have better detection against double agents or track down prisoners or known terrorists. But how accurate is this system?
The National Academis Press released a report in 2010 on Biometric Recognition. A typical biomimetric system has two major components: first new information that it incorporates into its database, and then reference information that it compares any new information to. What the NAP report found was that errors are inherent in these kinds of systems and while they can be reduced they can't be eliminated. The way humans interact with these systems is also problematic. We are generally accustomed to our technology giving us a right or wrong answer and not used to approximations that might provide a probability that someone is a match instead. There's also the problem that people themselves change in ways our technology can't always predict or keep up with. And of course there can be hardware problems in how the system is used and whether equipment is probably calibrated and maintained.
Still I think with all these hiccups it's rather appealing to have a piece of technology that could be critical in a war zone or trace fingertips on IEDs to the individual responsible. And like much of past military technology while we worry about its invasiveness and civil rights issues it tends to find its way to consumer devices that have a broad base of appeal. It will be interesting to see how much better the technology can get, the adaptations we find for it in other devices, and of course the fine line we walk between awesome and alarming.