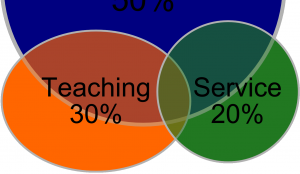 Ok, so I was lazy and just cropped my figure from last week's entry, so sue me. Anyway, last week, I discussed a general breakdown of academic activities for faculty members, focusing mainly on research. Without reliving old glories, quality research at a top university doesn't happen without money. A reasonable number to think of when you're considering funding a project, it costs roughly $120k/year/student and that's with minimal equipment.
But finding research money isn't the only part of it. A good prof has to find money, effectively mentor his/her students, write highly relevant papers, and still teach and perform academic service at their university and to the community at-large.
Once again, we're back to generically looking at the time breakdown: research = 50%, teaching = 30%, service = 20%. Towards the end of semesters or exam weeks, teaching will dominate. When it's time for committee work or conference organization/reviewing, service will dominate. Basically, you're doing the "research side'o'things" unless something else needs your immediate attention, like lectures in 15 min :-D. I'll start with teaching.
Teaching: I actually lucked out when it comes to teaching. At SnowU, I only have to teach 1 and 1, that is, one class each semester. I have heard up to 3 and 2 being the norm at some places. Now, I actually haven't prepared full lectures for a semester course, nor have I developed my own class (although I get to for the spring), so some of this is just speculation. I suspect that I'll try very hard to be about 5 weeks ahead of class but I'll get bogged down with multi-tasking research and service along with teaching. Towards the end, I'll probably be only a week or two ahead of class. From what I've heard, that's somewhat normal.
But why is teaching important? For starters, part of your tenure package contains your classroom reviews. I'm imagining there is a fine line between effective, difficult teacher and militant asshole who doesn't give a rat's ass about teaching.  If you turn out to be the latter, your reviews are going to suffer and you're not going to make tenure early, if at all. But it's not just reviews. There's other reasons why teaching is important.
Gives you an environment to interact with potential research students and snap them up before others do (aka: cherry-picking) .
Makes you a better presenter and mentor. If you can't teach 50-75 students in a classroom, how can you do it 1-on-1?
Keeps you fresh with engineering fundamentals. I'm not sure I'd like teaching statics every semester, but I would really know some ME fundamentals.
Very good teachers are often seen in a different light by students. Remember, UG students mostly have no idea how superawesomesauce you are as a researcher. They only know you as their teacher for ENG101 and they're going to think you suck at research if you can't teach.
Service: So you now know about research and teaching. What about service? Service is all of the things you get suckered into doing volunteer to do that you generally has no bearing on your research or teaching. This includes serving on department committees, college committees, or even university-wide committees. Also, things like peer reviewing for journals and proposals or conference organizing all count as service.
Service is often the thankless part of the position that doesn't pay off until you're well established. For example, I joined a conference organizing committee when I was a first-year PhD student. I did it for a few reasons: meeting newer (and more well known) people, getting my name out there, and seeing behind the scenes action but mostly it was because I wanted to feel like I was a contributing part of the community. Now that it's four years later, most of the people there know me and I know them, I have a good feel for how things really work, and I feel like I belong. But aside from all of that, there's a lot of CV brownie points that I earned along the way.
And that's one of the most important things about Service. Performing academic service to your university and research community shows that you're a team player and you want to be involved. That goes a long way to meeting potential collaborators and beefing up your CV if you're looking for a faculty position. Remember, faculty search committees are looking for the trifecta: great researcher, great teacher, and a great team player. But if you come across as superstar researcher, indifferent teacher, and a recluse, it's going to be difficult to get a position.
I hope this week's and last week's post sheds some light on tenure track positions in academia. I'm not saying I have all the answers but these are the assumptions I'm going with for the time being. If you have anything to add, please comment below.