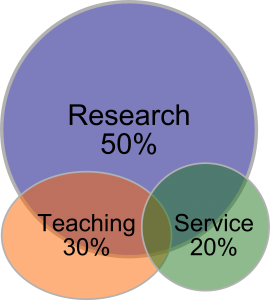 Last week, I discussed my initial thoughts on submitting my first proposal. One of the comments I received was from Chris Gammell via twitter stating that most engineers never write proposals and certainly not large proposals. I was actually quite shocked for two reasons. The first reason was  because I know there are some academic types that read this blog that probably see large proposals on a regular basis. The second reason was because my impression about industry is they have a lot more money to work with than academia and so large proposals should be fairly common. Since there was this misconception, I thought I would discuss and breakdown an academic position (in engineering) to show how each facet works together.
The overall breakdown is shown in that nice little figure to your left. Roughly speaking, research topics should consume 50% of your time, teaching 30%, and service 20%. This may vary from university to university but should be close to what's expected. To keep myself from rambling too much, I'll stick to research for this week and then discuss teaching and service next.
Research is the primary function of most tenure track faculty at research universities and funding is the lifeblood of research. And, to come full circle, since research is the largest part of your job on a tenure track and funding enables research, if you can't get funding you're not going to make tenure. Sorry, but that's the way this world works.
So, funding is important. But why is it important?
Funding pays for graduate students who are your primary researchers.
Funding pays for equipment and supplies to assist with your research.
Funding allows you to disseminate knowledge at conferences and through publications. Many open access journals require publication charges by the authors or voluntary contributions to help cover costs.
Depending on the source, funding can augment your salary (known as summer salary) and/or it can offset your salary for your department (known as academic salary). Bringing in more academic salary from outside sources means you're cheaper for the department and they may (not will) give you a lighter teaching load as a result.
Funding pays for overhead. That's everything from your desk to department and university administrators, all of which cost money. It covers all of the things you don't normally consider as a cost for doing a project.
There's also some political jockeying depending on how you are funded. These usually take the form of either Single PI (Primary Investigator) or co-PI on a larger project.
Single PI – These proposals are usually small, typically enough to fund a student for a few years, some small equipment/supplies, and a little bit of travel. Single PI proposals are very good for showing that you can bring in money on your own. When you're going for tenure review, you need to show that you can sustain a research group on your own by finding your own funding. When you're starting out on a tenure track, there are a few sources that specifically gear (pun!) to new faculty, often called young investigator proposals, where you won't be competing with older, more established faculty.
co-PI – These proposals are generally larger, because multiple faculty members request money for students, travel, equipment, and summer/academic salary. Often, these are for working on larger projects with multiple facets and should merge together at some point for a common goal. As a tenure track faculty, you might be a co-PI (and the primary) on a small-ish proposal (you and 1 other faculty member) but if the proposal amount and number of faculty members ramps up, you generally need a well established faculty member to be the primary PI. These are great for bringing in larger chunks of money and often times you can get more equipment. However, as a tenure track faculty member, if you only go after these larger proposals, some will say that you can't bring in money on your own (Single PI).
Ok, so now you understand why you need funding and how to play nice with others, but how much do you need? That's the question that widely varies between fields and institutions. Here's a rough breakdown for a 4 year, Single PI mechanical engineering project.
Student salary. Most students make ~$30k/year, including some additional costs like student health insurance. So that's roughly $120k for a PhD project.
Tuition. That's right, you need to pay your student's tuition at most universities. This could be anywhere between $10k/year to $40k/year. Sometimes, tuition goes down when they're done taking classes but let's assume its $50k at minimum for 4 years.
Equipment varies enormously but any experimentalist will need something. At minimum, you're looking at $25k/project.
Supplies keep the wheels turning on a project. Generally, people budget $10k/year to $20k/year depending on the number of students a project is funding and the task. Let's assume $15k/year so $60k total.
Traveling to conferences costs money. Registration fees, flights, hotels, food, etc. Per student, you're looking at $5k/year x 4 years = $20k.
Summer/academic salary. On small projects, you're not going to request too much but you need to show you will directly work on the project for a duration of the time. Most TT ME faculties at state universities start at $70k to $90k per academic year. So if we assume $80k/year is in the middle, then one month of salary is ~$9k. When you add in benefits, it adds another $2k. So for 4 years, you cost $44k for the project.
Overhead adds 40-60% to a project. Let's assume 50%.
If you add all of that up, 1 PhD student project running for 4 years means you need to find $479k ($319k *1.5 for overhead)!!! That breaks down to ~$120k/year/student. So if you're funding 4-6 students every year, you need to bring in at minimum $500k to $750k per year. And there's probably some of you out there who have worked in research groups with 10-15 students. Now imagine the amount of money the prof needs to bring in to sustain that. If you're working with cleanrooms and medical supplies and animal testing (you Bio folks), this ramps up exponentially.
So when you see your prof stressed out about proposals and worrying about getting funding, now you know why. Next week I'll discuss the other two aspects of the job and how they relate to the research objectives.