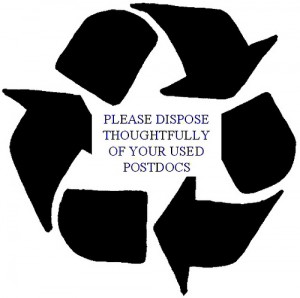 This week at Engineer Blogs, we are discussing the worst mistake we've ever made. However, that theme is somewhat difficult for me as I am a perfect human being who has always been right, or at least argued my point successfully until my opponent has been convinced I am right. Actually, I'm completely joking and I have make more than my fair share of mistakes. However, I'm going to refrain from discussing them for political reasons. Instead, I thought I would discuss something that I'll never know if it was a mistake until it's too late:  Skipping the postdoc stage of an academic career. First, some short background.
Unlike many academic engineers, I did my UG and MSc at the same university and then moved on for my PhD at a different university. It seems like the norm is to do UG at one place and then move on for your MSc and PhD at the same time. From most of the people I know that did this, they received the "coursework masters" which means they got their MSc degree after completing their required courses and passing the qualifier.
There are two distinct differences you'd learn about if you went through the same type of track I did. One, I was friends with mostly PhD students during my late UG and MSc so I knew immediately knew what was expected of me when I started my PhD. Two, I wrote a MSc thesis which gave me a distinct advantage when it came time to write my PhD thesis because I had at least written something similar (although my PhD thesis is waaaay longer and has more detail). More importantly, I had a reasonable estimate of what I had to do to prove myself tenure track worthy with my PhD work, rather than waiting for the postdoc. And, suffice to say, my estimate was correct because I did skip postdocing.
I was against postdocing for a few reasons (FYI, figure credit). The main reason is that I didn't think it was necessary to do 2-3 more years of research at yet lower pay to do what I had just done for 4 years. I published, got exposure at conferences, did research on multiple projects. The next main reason is perception. I read a lot of blogs and twitter feeds where it seems like postdocs are treated like sub-human lab rats who haven't seen sunlight in months. Most postdocs say "well it's the right of passage and it's only for a few years". But then there are other instances where you hear of postdocs who have been at it for 7-10 years. Either way, my perception is that it is a cheaper way for a university/company/institute to do research rather than paying me a real salary and giving me a real job. Plus, at a university, you'd be teaching and writing proposals; the same thing tenure tracks do so why bother.
But recently, I've been working with a team of researchers on a rather large proposal and it has been very time consuming and mentally draining. I have no idea if I'm pulling my own weight or if they are just dumping work on me because I'm the n00b. The writing style of proposals is completely different than what I'm used to for my thesis or papers. Plus I'm still doing all the other things I'm supposed to (write papers, advise students, etc etc).  It's basically given me pause to say "Hey, maybe it would have been better to have done a postdoc first and wrote a few proposals before pursuing the tenure track." A postdoc stint (and I did have very good fellowship offers) would have allowed me to branch more into applied physics and broaden my repertoire which would make me more sciency (better for publishing). And a postdoc would have eased me into a tenure track rather than just jumping into the deep end.
However, I feel like I'm on the brink of holding it together, if just for now, so maybe I didn't need a postdoc. And maybe it's just the cyclical nature of an academic career. But I have no idea whether or not is was good to skip the postdoc stage. If I make tenure in a few years from now, it probably wouldn't have mattered. However, if I crash and burn, then it's likely that skipping the postdoc stage was a huge mistake.