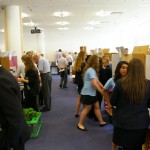 For the next few weeks, I'm going to hog EngineerBlogs to talk about a school's engineers competition that's taking place. The contest is taking place at Anglia Ruskin University, which is in Chelmsford, England, the "birth place of radio".
The contest is run by Chelmsford Engineering Society, which is a group of engineers that run the competition in their own time and are sponsored by local businesses. Each year, schools from all around the area come to Chelmsford, displaying their projects and hoping to win one of the many donated prizes.
My part in this is that I am one of the many judges that the local companies sponsor. My firm, embpapst, sends two judges each year as well as donates money to the society. It's important for us and other companies to do this, otherwise, these contests just could not take place.
The contest takes place on the 1st of July and following last year, which was my first, I'm greatly looking forward to seeing what the kids will bring along. So far I've heard there are going to be 40 entries. It's great that the local schools are putting so much into this. Many do this all in their own time or as part of their GSCE or A-level work, depending on the age group.
So next week, I'll be back to report on what we saw and how well the kids did.  Until then, I'd like to know what contests take place around you and whether you get involved.