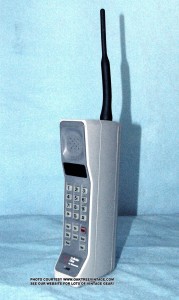 Every day, most of us are inundated with technology. The advances (and advantages) my generation has over my parent's generation are enormous. Today, I thought I would discuss the five things that changed my generation for better or worse, depending on your perspective. In other words, I'd call it the list of "I wish I invented that". I'm curious to see if our readers agree or disagree, and which ones they would change. These are loosely listed in order, saving the best for last. (My picture probably gives it away…)
5. USB Sticks
Until about 7-10 years ago, flash memory was difficult to manufacture and was largely used in PCs for permanently storing data that could be used to carry the protocols that you needed to access your real data (hard disk drives). With USB devices becoming the standard for PC interconnections, this was the prime opportunity for USB storage to thrive. I remember the first 32 MB USB stick that I had. The first time I used it, my reaction was "Huh, that's sooo much easier than burning to a CD. Why didn't I think of that?".
Flash forward (pun inteded :-D) 7-10 years and everything has flash memory. It's convenient, easy, and cheap. And, it's probably going have the shortest life on this list. My guess is that cloud computing + 3G/4G networks + all wireless devices means you'll just end up storing it on the cloud. With Google Sites/Docs, Dropbox (please get bought by Google), and other data sharing services, it'll be quicker and easier to just log in and download than fish around for a USB stick. Nevertheless, it changed our perspective for carrying, transmitting, and storing data so it deserves a nod of appreciation.
4. Fiber Optic Communications
This is probably the least obvious of the 5 items on this list. However, our world is now built on communication and data transfer around the world. I'm still amazed that I can be having a Skype video call with a colleague across the world, while copy and pasting commands in a message window, while transferring files back and forth via Dropbox. Somewhere behind all of that, are millions of bundles of plastic and glass fibers, carrying little flashes of light which allows me communicate. With more of the world becoming wired (or rather, wiredless), we still need some network to serve as our 6 lane highway. Fiber Optics gives us effectively a 100 lane super highway. And it's not just for large data centers. Increasingly, fiber optics are becoming the standard for data transmission, even at home (FiOS anyone?).
3. Mp3 compression & P2P Networks
I was going to put Napster here, but with Napster being a fraction of what it once was, I couldn't justify it. However, I could justify Mp3 compression and P2P Networks. Virtually overnight, millions of people were able to download every piece of music they ever wanted. After that, why buy a CD or listen to the radio? Actually, the music industry was so blindsided by this, it was worse that Glass Joe getting hit with a Star Punch.
But it wasn't just music. It also changed the movie industry, the video game industry, and the software industry virtually overnight. You can argue the legalities all you want. It doesn't matter. Things will change whether you want it or not. That should put everyone notice: adapt to changing technology or get steamrolled.
2. Windows
Mac fanboys and fangirls won't be happy with this but Windows changed everything for personal computing. I remember using DOS computers way back when and it wasn't fun. Putting a GUI on topic of all that code with Windows 3.1 changed things for the better. It turned computers into something that people could hobby with to something that even non-techies could use. Moreover, Windows would work on any PC from any manufacturer. It was the universal software tool that the computer industry needed to establish a foothold in mainstream companies and household use. Now, there are more (and better) options to Windows but I don't think we would be at this point unless we had Windows to start with.
1. Cell phones (now smart phones)
The last and most important thing on my list is cell phones. Cell phones meant you didn't have to be tethered to a specific location. People trying to reach you could always do so; they didn't have to call a place they thought you might be. From a universal perspective, cell phones continue to change lives on a daily basis. A friend of mine traveled to Vietnam and he said they've got better cell service than in the US. No one has land lines because they're developing in the cell phone age. The same can probably be said for most developing countries.
And now, with smart phones being the new phone of choice, I don't know how we could ever go back to not having them. Even though I think Apple is the most pretentious company on the planet, the iPhone is the best piece of technology I have ever owned. And even with the terrible iTunes interface and uber overcontrol from Apple, it's still the best. It's still a phone, but it's replaced my Mp3 player, my netbook pc, and often times my laptop. I can travel and still read email, browse the web, send and receive txts, and still call people. I hate the fact that I love it that much.
What technology changed your life? Am I close with these 5? What do you wish you had invented? What do you think will be the norm for our children's generation?