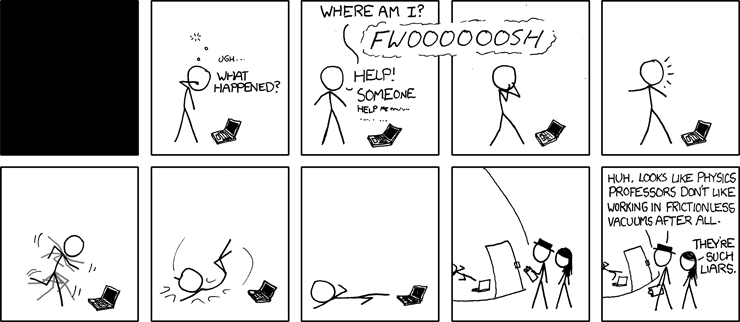 Last week, Miss Outlier's contribution to the cross-disciplinary work theme discussed how she doesn't believe in the modeling approach to engineering.  Given simulation work is my bread and butter, I felt the need to respond at length to her post.  However, I've already discussed many of the issues on my own blog.  I've talked about how people who don't believe in modeling often don't understand validation, how one needs to understand the limitations of modeling, and also why I find modeling fun.  As I've addressed most of the main points, you might think I have nothing left to say.
However, I could not let this comment pass:
Where is the enjoyment when you spend all the day in front of the computer? No wonder the stereotype is that the programmers running the algorithms are anti-social  – if I spent my whole career interacting with a computer, I would be too! Instead, I get to spend my days puttering around the machine shop, which is one of my favorite ways to spend the day.  The thrill of physically building something new, seeing something sitting on the lab bench that simply WASN'T THERE yesterday… there's nothing like it. Truly, I think that practical, hands-on engineers are the people who make dreams turn into reality.
I won't go on a diatribe about how engineers hate the stereotype of the socially inept nerd…but I will address the stereotype of the theoretician who has no grounding in reality.  I have seen it a lot in physics, primarily because physicists deal with systems that may not be as easily measured as those in the lab, but I have to admit that I almost never see it in engineering.
I can't remember which episode, but I recall Chris talking on the Amp Hour about how he'd never used a network analyzer until he got into the workforce.  I was shocked by this because this was one of the first pieces of equipment I used while doing my MS.  In fact, I gained a lot of experience using network, spectrum, and impedance analyzers.  Not only did I do simulation work for my thesis, I took data to validate my results.  Further, I wrote a paper on a completely different topic that was based entirely on experimental results.  While I'm not crazy about lab work (I find it boring and frustrating), I also don't spend all of my time in front of a computer.  I often need to provide input or direct people on how we plan to validate simulations, so I will often be planning out and possibly performing experimental procedures.  Doing this requires a reasonable knowledge of how our lab equipment works and what we can and cannot measure.  This is true of the mechanical engineers I work with, as well: they perform the modeling and execute the actual tests and experiments themselves.
The gist of this is that I've actually run into the opposite: almost every engineer I've been around knows how to function in a lab, but there are many who work exclusively in the lab and dislike or even actively avoid modeling.  Engineers who model usually have a good handle on both how the simulations work and how to go about doing actual testing.