My specialty within Mechanical Engineering is Machine Design. These past couple weeks I have been designing a new machine, one that needs to be very precise. Basically the new machine is a stamping machine – I have a stamp coated with an ink, then I apply a force to press the stamp onto a substrate and transfer the inked pattern. The trick is that the two pieces (the stamp and the substrate) need to be carefully aligned so that the pattern ends up in the right place. The tolerance is pretty tight – I have to be within +/- 2 micrometers.
It occurs to me that this specific design problem is part of the more general issue of fixturing and constraints. It's a pretty common situation as engineer that you have one piece which needs to be aligned relative to another piece. So how do you do it?
Well it first depends on the accuracy you need. If you have two things which need to be attached within +/- 1 mm, then you can just use bolts or a clamp. If you need accuracy down to about 10 micrometers (micrometers commonly shorthanded as "microns"), then you might choose to use pins in holes as the alignment method.
A good example of pins in holes is a die set (see figure below). A die set is two plates, which slide up and down relative to each other on pins. They are used often in manufacturing, assembly, and fabrication applications. Typically, you would put a die set in a press, and then the press would apply pressure to squish two things between the die set plates.
Sounds a lot like what I am doing, right? Pressing two things together between plates? The problem is that I need better accuracy than 10 microns – I need 2 microns or less. So how do you design a fixturing method that is that precise?
You need to think about constraints. Every object in space has six degrees of freedom – it can translate in the x, y, and z directions, and it can rotate about the x, y, and z axes. Every time you constrain one of those degrees of freedom, you restrict the movement of that object.
For instance, if you set a sphere down on a table, you have constrained the vertical z direction, so that sphere only has five degrees of freedom left (translation in x and y, rotating about all axes). If you put a flat plate on a table, you have constrained the vertical z direction and the rotation about x and y, so the plate has three degrees of freedom left (translation in x and y, and rotation around the vertical z axis).
If you want to hold something in a precise position, you need to exactly constrain all six degrees of freedom. This is called kinematic constraint, or kinematic coupling. (You also can't constrain any movement direction twice, or that is called overconstraint, and it introduces uncertainty that ruins your accuracy.)
So what does a fixture look like that exactly constrains all six degrees of freedom? Consider the picture below, showing three methods of constraining a sphere.
As I mentioned before, a sphere on a flat surface is constrained in one dimension (vertical z). A sphere in a V-groove is constrained in 2 directions (because there are two points of contact). A sphere in a cone is constrained in three directions.
So in order to exactly constrain a part, you can pick and choose fixturing methods that add up to six degrees of constraint. There are many possible ways you can do it, but there are a couple common methods. The most common choice is three spheres in three vee-grooves (2 degrees x 3 = all 6 degrees of freedom constrained), called the Maxwell System.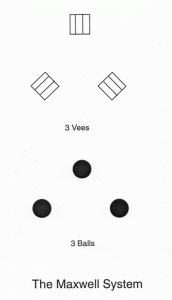 In practical application, that means you would attach three spheres to your top plate (in my case, the top plate has a stamp), and then attach or machine three Vee-grooves into the bottom plate (in my case, the bottom plate has the substrate that I am stamping). This look like this:
And put together, it might look like this:
Then every time you place those two plates together (if designed and executed properly), they align themselves to within a micron of where they were the last time you placed the plates together. Kinda cool!
But Vee-grooves are difficult to machine. Instead of Vee-grooves, you can also use two cylinders, which will give you two-point contact just like a Vee-groove. That design would look like this:
That design still has three connections that constrain two directions each (3 x 2 = 6). But how about a different method? Another common choice is to use a sphere against a flat surface (1 degree), a sphere in a groove (2 degrees), and a sphere in a cone (3 degrees). You still are exactly constrained (1+2+3=6).
Two plates aligned with that design might look like this:
The take-away here is that whatever way you choose to design your alignment fixture, if you need to be super accurate, you might consider using a kinematic coupling. A kinematic coupling exactly constrains all six degrees of motion, and no more, so that you can get incredible precision and repeatability in aligning your parts. Of course there is theory and equations behind this concept, and if you are interested I would refer you to places such as the Precision Engineering Research Group. Also for your reference, there are places which specialize in selling components such as spheres and grooves (I don't have any relation to these places, other than that I use them as suppliers). Take a look at Bal-Tec, Newport, and Brooks Automation, Thorlabs for optical flavored components, or Weldon for machining custom precision things.
Happy designing!