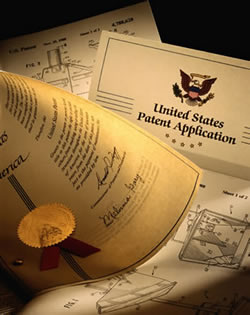 I was planning on saving the world with circuits. I was going to sit at my desk, work out complex equations from scratch, and create technology so powerful that it shall be honoured for time immemorial with the granting of a patent. At least, that's what I thought until I had actually gone through the entire patent writing and submission process. Patent making (not technology inventing, but the process of creating the patent based on the technology) is a dreary process, filled with a kaleidoscope of inane language. I now have seven patents with my name on it and the only thing they're good for are seven extra lines on my résumé. The last four were filed with my current employer, FluxCorp. The other three were filed with my first employer (let's call it PatentCorp), where I worked for 2.5 years.
PatentCorp used to be a hard core engineering company with designs that went into millions upon millions of products. During the dot-com bubble, when cash was abundant everywhere, PatentCorp undertook a new business strategy, tucked its few imporant patents underneath its arm, and started to sue the big guys (multi-billion dollar fabs) for lots of money all around the world. Most engineers were bemused by this emerging business unit, thinking that they can only milk this cow for so long before PatentCorp manages to sue everyone worth suing.
Then the dot-com bubble burst.
I didn't stay long enough to see the ship sink. As PatentCorp shed its workforce in an effort to remain solvent, it eventually shed so many engineers that the only business unit left was the one enforcing patents. I had predicted that the company would soon fold, for how long can a company survive living on old patents but never generating new ones?
Boy, was I wrong. PatentCorp remains listed on the stock exchange and continues its patent enforcing business. It buys patents from defunct companies or failing entities within other large corporations. It then turns around and uses those patents for additional lawsuits.
That's all PatentCorp does. It generates no real value. It creates nothing. It enhances nothing. It add absolutely zero to the GDP. It's run by lawyers with a smidgeon of engineering staff to look through the patents that are being acquired.
A reader over at my personal blog commented on a post titled Metrics:
Patents have nothing to do with innovation, only with the generation of more patents. This collection of patents can then be used to bludgeon into submission any competitors who have the audacity to actually innovate.
How true. How patently perverse.
And terriby un-PC (and hilarious).