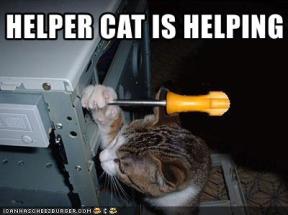 This week on Engineer Blogs we've been talking about perceptions of engineers. Before I started working I had an unclear perception about the duties of engineers. I knew the major required a lot of science and math and shied away from it. Once I started working in the industry I found that engineers weren't really any smarter than any other professionals I had known in my life. What had seemed like a high bar for entry now became something reasonable that maybe I could do too.But more importantly, I began asking these engineers for advice and discovered that many of them really loved their jobs.
A few days ago Fluxor talked about whether engineers were respected by society in general. US News did a ranking of the top 30 careers back in 2008 ranked by median pay, job satisfaction, prestige, job market outlook, and barrier of entry for education. Engineer does pretty good, or more importantly sits at the B grade of job satisfaction. That's not too bad. I feel most engineers do really enjoy what they do. They may struggle with some aspects of the job, may not like the project management where others do, or may not like the paperwork and be more of a tinkerer. But in the end it's a diverse job and I think most of us who went in it would agree we wouldn't go back and be able to find something else that gives the same amount of job satisfaction.
I believe the prestige Fluxor talked about a few days ago is also a big part of it. Engineers might not rank very highly, or as Cherish talked about people may not always understand what engineers do. But overall it's a respected profession that will hopefully grant enough pay for a stable life but isn't too disconnected from the rest of society and the community. I think most engineers are proud of what they do. And when you love what you do, and you're proud to tell people what you are, that's a pretty awesome combination.
Would love to hear readers feedback on their own perspective of job satisfaction or pride in their work and position.