Sometimes, it's hard to see the forest for the trees. As engineers, we often complain about how the public at large do not appreciate the work that we do. Cherish touched upon this yesterday in her post on how engineers have seemingly faded into the background. In fact, one often used argument about this lack of respect is to compare the relative pay of engineers with other professions. Doctors, lawyers, and accountants are often the ones being compared to. Sometimes, we even lament the lack of pay when compared to skilled trades, such as plumbers and electricians. That's why it may be a surprise to you that engineers are, in fact, quite well regarded.
A 2002 survey commissioned by the Ontario Society of Professional Engineers asked how the public in this province (Ontario, Canada) rate the prestige of various occupations. Here are the results: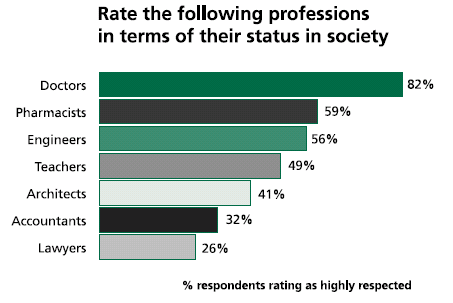 Engineers ranked third, only behind physicians and pharmacists. Not surprisingly, lawyers are ranked pretty low. Yet, our remuneration isn't reflected by the survey. Unfortunately for engineers, salary is not a popularity contest. The invisible hand of Adam Smith — supply and demand — ultimately determines how we're paid.
What I do see is that the general public giving credit where credit is due. They understand engineers make gizmos and gadgets, bridges and buildings, bombs and fighters. And yes, they sometimes confuse scientists with engineers, although the work of both are not mutually exclusive. Still, it's good to know what we do is generally appreciated, even if it's not proportionally reflected in our bank accounts.