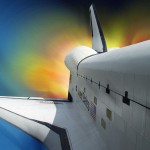 Nearly 30 years ago on April 12th, 1981, my mum let me have the afternoon off school for a special event. I sat in wonder, watching our old TV, filled with images of excited press reporters and very worried looking scientists. As the giant clock counted down and silence fell, I saw the massive rockets light and wriggle like fish beneath NASA's latest achievement on PAD 39A. Seconds later, the world watched the first space shuttle launch of Columbia on mission STS-1. The mission came exactly 20 years to the day after the Russian Vostok1 mission, the first human space flight mission with Yuri Gagarin.
Now exactly 30 years later, NASA is finally laying this iconic fleet of ships to rest. Last week we saw the launch of STS-133 as Discovery makes its last voyage into space and returned on Wednesday. There are only two more flights left that have been planned for essential supply of equipment to the International Space Station.
The  great thing about the shuttle is that it looks radically different compared to old and new rockets. The shuttle is how we expect a space ship to look.
For me, the space race encompasses some truly wonderful engineering. It's not just about throwing people into space: space flight needs scientist and engineers from every field. Mechanical and electronics engineers, chemists, physicists, and even biologists all have input into its development. Some people question the amount of money that goes into the shuttle, but for me, it's worth every penny.
As I have said, the end is now close for the shuttle. However, NASA and other agents are continuing their work to take mankind to new places in space, and I can't wait to see people going to Mars.