This is a guest post from Peter Francis, who can be found on Twitter and DesignSpark.
Do you currently exchanged data between systems or are you put off by the complexity?
Most modern mechanical CAD (MCAD) systems have the capability of exchanging data with electronics CAD (ECAD) systems however this does have its issues and limitations.
I though it might be useful to explore what is possible and hopefully demystify the process.
First of all why would you want to exchange CAD data between ECAD and MCAD systems?
The one of the main aims of any CAD system is accuracy of design information, for most part a sketch on the back of an envelope would surfice for most design work, however with the increasing sophistication of modern products and ever tighter size and performance constraints the connection between electronic and mechanical parts is ever more important.
So why do we exchange CAD data?
1. Accuracy of design
2. Reduce need for prototyping
3. Better Documentation
4. Ability to explore design options
There are a whole host of additional reasons but I think these cover the main points.
So it seems like a good idea to exchange data between systems doesn't it?
So why do so few people do it? Is it too complex to set up?
I hope the following will help to dispel some of these preconceptions.
What can you actually do with the data?
Let me explain this by illustrating how I approached the problem. I've been using Pro/Engineer for the last 10 years and for the last 6 years we've had PADS ECAD system. Initally the 2 systems worked in isolation, information was transfered in the form of paper drawings , not ideal but it worked.
Then came the day when a new project came in that required an electronic fan contoller fitted in an enclosure to meet tight size and positioning constraints.
We looked at exporting data from our ECAD system and discover the wonders of IDF. IDF is the format used to transmit data between different CAD systems , its the DXF of the electronics world.
The ECAD system exports a set of files representing the pcb and components and the MCAD system can import this set of files and generate solid models of the board and its components. These are generally a rather blocky representation of the components based on the silk screen outline of the component and its overall height. This is usually enough for space claim purposes but it isn't very 'pretty'.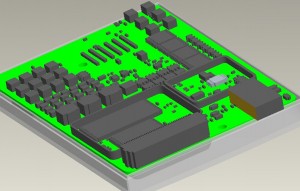 This is were the MCAD system works its magic, during the import process the MCAD system substitutes a full blown MCAD model for the ECAD block model based on a user generated database which maps the ECAD description to a MCAD model. this generates a solid model of the complete board including all connectors , heatsinks , and board mounted devices.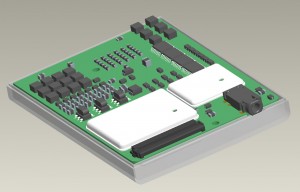 So where is the downside you ask?
All the MCAD models of the components and connectors have to be generated , quite an onerous task at first sight but managable using the power of Pro/Engineer. In addition a number of manufacturers are providing 3D models of their products, notable amongst these is Molex who provide models through their website.
The main problem with the transfer process is component orientation, we have coped with this by specifying that the mechanical datum is on pin 1 of the device where it intersects with the pcb surface. With this method we can generate the MCAD component model independantly of the ECAD model and when we import a new PCB we check for component orientation issues. If we find any issues we can change either the MCAD or ECAD model to correct the orientation.
The only other problem we experience is that PADS exports the files using Inch units but we work in SI units so there is a conversion required of the MCAD model, this is easily accomplished in Pro/Engineer.
My only real complaint with using IDF 3.0 is that it doesn't transfer the silk screen and the conductor patterns. These are useful in generating documentation , however I understand these are included in the next version of the IDF format.
What are the benefits?
IDF files allow bi-directional transfer of PCB data between MCAD and ECAD system.
Components can be moved and accuratly positioned in the MCAD system and those changes transfered to the ECAD system, a life saver when designing custom enclosures with cutouts for connectors and LEDs.
Tooling holes, keepouts and height restrictions can be defined in an MCAD model and those restriction carry through to the ECAD system. Again this feature is so useful when designing PCBs and their enclosures.
….and Finally
Despite appearing to be difficult with a little bit of work it is possible to achieve excelent results with a corresponding improvement in your design process and data integrity. I'd be interested to hear your experiences of integrating ECAD and MCAD data, did you have problems ? what benefits did you see?
I hope you find my blog interesting and informative, please feel free to contact me either through the comments or via Twitter at @peterjfrancis