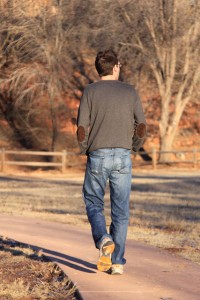 Racking my brain, thinking back to classes in school, it's difficult to remember individual ones. Sure, I remember the tracks: the circuits, the signals, the flux-type classes, the programming (ick), the general education requirements (始めまして) and the silly physical education classes (jogging? really?). However, the specific topics, class names, course numbers…none of it sticks out as much as the professors.
Why?
Because I'm human. You probably are too (I hope). And humans relate to memories and stories by the people contained within those stories. That's why politicians love telling stories about downtrodden citizens whom they helped help themselves. Or whatever.
I recall a teacher in particular that helped me (in this example, let's call him Dr. P.); by extension, I recall his class. The reason I remembered it all? Well, it was hardly because of the class itself. It's because he ended up as my boss!
As a backstory, I was taking an analog communications class as a part of my signals track. The professor was nice enough and the topic was interesting. It covered the radio bands and all the fancy math behind modulation and demodulation. To someone who still thinks RF seems like magic (even after knowing how some of it works), this was an exciting class. I was  learning all the secrets! I got to know the Dr. P a bit better over the semester. He was an adjunct, teaching at my school on his off time, mostly because he enjoyed teaching and helping others grasp difficult concepts. All in all, the semester passed without incident or fanfare.
However, this was the spring (or winter, as some call it) semester and I was getting ready for my second co-op. This means I was on an extended internship, usually on the scale of 7 or 8 months. As luck would have it, I interviewed with and got hired by Dr. P.  The company I was working for an RF measurement company, working on a prototype device directly with Dr. P.
This is where the true learning began. It was great! In fact, doing this work was like a class of its own, because we'd often sit down and discuss the mechanics of down converters and up converters and lots of other topics relating to Digital Signal Processing. Since I only had analog comm experience (and some electromagnetics classes to give some background on the physical phenomena we were working with),  I was allowed to dig into problems on my own while at work; I had a lot of learning to do to transition into learning this new field. And all of the pieces fit together as I moved from the theoretical textbooks to real engineering problems. I was working in MATLAB, an admittedly high-level and abstract program. However, we had software to covert to VHDL and then were able to test the hardware on an FPGA. If I had an algorithm I helped design flip a bit…I actually flipped on an LED! I'm sure many out there know this feeling of finally outputting a physical indicator after long stretches of time in simulation. Something as simple as a flashing LEDs can have serious impact on happiness.
Even though I was at the company 8 months, personnel changes and project timelines prevented us from getting the product out by the time I had to go back to school for my final semester. However, here's a few things I learned in class, out of class and during work from Dr. P:
Professors are people too!

I never did undergraduate research, as many suggest students do. I had other things going on and I was aloof when it came to that kind of experience. The benefit of being a research assistant is that you get to have interactions with teachers outside the classroom. They're actually kind of normal sometimes. Who knew? Getting to work with Dr. P made the whole notion of a professor more approachable. I only wish I would have figured that out sooner.

Practical vs. Theoretical

Getting to work with white papers (as I currently do) is much different than trying to implement the technology and algorithms described in IEEE conference papers. But I got to do the latter! Having a mentor guide me along and try to understand the technology–especially the block diagramming and systematic construction of algorithms–was really useful.

Perseverance

Dr. P was not a traditional student. He took 14 years to get his BS, MS and PhD. I think that's why he enjoyed teaching, because he wanted to help others learn since it was such a regular part of his life. While I haven't gone back to school yet, he's still been encouraging me to go get an advanced degree (well, he said a PhD, but I'm not so sure about that).  But it's because I worked with him and saw the benefits of an advanced degree that I'd even consider it.

Um, Signals

Despite my best efforts, I became quite good at signals and systems type problems, both practical and theoretical. If you work on something with a mentor for 8 months, you're bound to pick up a few things. I actually tried going into the field later, but was tempted by a job offer in an unrelated field and dropped the pursuit of DSP type work (which may have actually taken me 14 years to get a job because of educational requirements).
So while the original class was a great learning experience, it was getting to know my professor and getting to work with him that taught me the most.
What about you? Was it the class or the professor that helped you more? Did you have any crappy classes with good professors (where the content didn't matter)? Let us know in the comments!