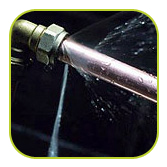 It's been one of those weeks where nothing works like it's supposed to and while you're trying to troubleshoot one problem you find another. So what is it with manufacturers and letting errors slip through? Some I can understand. Some are one in a million probability or only happen sometimes. By the way, how exactly are you supposed to troubleshoot a software problem that doesn't happen every time? Maybe the errors wouldn't be so bad if they were a little more consistent. I can understand getting different results if you tested your assembly in the summer and now it's winter or vice verse. But some errors are inexcusable.
Critical safety issues should not only pop up warnings in your backup system leaving your main system unaware. And running should work equally well in your main system. You shouldn't have to run a platform from the backup only. How does this stuff even happen? You start with something designed and built by very clever sparkies and software engineers, incorporate it into a mechanical system, test it for hundreds of hours, and then find new problems the minute you move it to what should be an identical platform from your testing.
I had to laugh when I read today that VW is recalling their Routan minivan because sometimes the engine shuts down without warning. That's a pretty big oops. Turns out the key can occasionally slip slightly which causes the engine shut down. You would still think there'd be fail safes in place that wouldn't tie your engine running to your key placement. Engine shutting down while driving is really bad to begin with. The driver should not necessarily be able to make that happen without a certain sequence of events. Cruising along at 55 mph with your foot not on the brake shouldn't be one of those conditions.
In this case you have to wonder if it wasn't some overzealous person using a really tight tolerance on what kind of jogging the key would be allowed to do before it would be considered an attempt to turn it off. Still I think it's amusing it went through the whole process (and who knows what similar elements in the key were actually designed from previous assemblies) of design, approval, testing, manufacturing, testing, and release only now to discover such a slight thing that has such catastrophic effects. I suspect it doesn't happen often enough to notice. And that's my gripe this week, having a supposedly production level part that occasionally fails but not always, and never consistently. Recall to manufacturer is not an option in this case so the fix will be a little more complicated.