Professional Engineers Ontario (PEO), of which I'm a license-holding member, publishes a bi-monthly magazine called Engineering Dimensions. In the September/October 2010 issue, a letter to the magazine caught my attention. Since online access to the magazine is restricted to members, I'll quote the reader's feedback in its entirety below: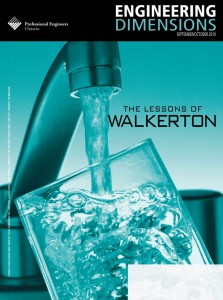 -President Seems to Support Discrimination-
I read with surprise and disappointment our newly elected president's avowed intention of supporting the concept of sexual discrimination ("Women in leadership," Engineering Dimensions, July/August 2010, p. 3). However, her suggestion that our profession should support sexual or any other type of discrimination greatly concerned me. This is antithetical to our long and proud history of objectivity, neutrality and fairness. In fact, it calls into question our claim to professional status.

Her first sentence–"At a time when women represent only 10 per cent of all professional engineers in Canada, there is a ray of light in the effort to become a more inclusive profession"–clearly implies that we have been excluding women from our profession. In the more than 50 years I have been a member, I have no recollection of ever having witnessed one case of sexual discrimination with respect to employment, membership, or appointment to office in the association. Furthermore, having been on staff, I am confident if there had been, I would have heard of such a thing.

Like it or not, there are basic differences between the male brain and the female brain. This is the basic reason that there are more women in nursing than men, and there are more men in engineering than women. If there is any sexual discrimination in those professions it is due to the choice of training by those who subsequently apply for membership.

I encouraged my daughters to continue their education, but I made no effort to direct their choice. An example of how I influenced them can show this. When, as a teenager, one of my daughters learned about the Block Parent program, she came to me and said: "This sounds like a good idea, Dad. Why don't you organize it here?"

My response was: "No, it's your idea, so if you want it, you do it. I'll support you." I was very pleased, and not in the slightest surprised when she did it–entirely on her own. She subsequently chose her own course and subjects at university. If she had chosen engineering, I would have supported her, but she made an arts choice, and I supported her.

Discrimination on the basis of anything other than ability is immoral, even if it is, like some governmental programs, legal.

William W. Hastings, P.Eng., Aurora, ON
Let me start off by saying I'm not one to actively promote the participation of any group in any profession. Having said that, I find Mr. Hastings' letter suffers from the very problem in which he denies exists in the field of engineering. There are so many holes in his arguments it's hard to know where to begin. So why don't we start at the beginning.
The first paragraph accuses PEO president, Diane Freeman, of supporting sexual discrimination based on her July/August 2010 message to the membership about women in engineering. Have a read of Ms. Freeman's short piece yourself. I'd like to hear if you also find that she's promoting sexual discrimination. I certainly didn't come away with that impression.
The second paragraph tries to read something into the Ms. Freeman's writing that I'm not sure is there. But what's more disappointing is Mr. Hastings's assertion that in his 50 years of being an engineer, he has never witnesses a single case of sexual discrimination. This may be true, but if he is using his own personal experience as an argument, then I'm afraid that Mr. Hastings may make for a very poor engineer. Or at least one with a very poor understanding of statistics. A single sample hardly makes for a statistical significant result while Ms. Freeman referred to a Harvard study that included surveys of many women engineers. Mr. Hastings further makes the ridiculous assertion that being on staff at his engineering firm, he is confident he would know if there was any sexual discrimination going on. Yes, I'm sure everyone, both perpetrators and victims, just love to broadcast these sensitive matters to every single colleague in the corporation. Amazing.
The third paragraph goes into the male/female brain difference theory. It's true male and female brains are different, but Mr. Hastings says this difference is the basic reason for vastly different sex ratios in nursing and engineering. This oversimplifications allows sexual stereotypes to continue unchallenged and in Mr. Hastings case, allows him to believe that 95% women in nursing and 90% men in engineering is due primarily to brain structure. Having data this skewed in a particular job classification is akin to the margin of victory by which dictators win their "elections". It should be viewed as a real curiosity. It would be nice if Mr. Hastings, as an engineer, looked at some scientific data before making such bold claims. Let me start by recommending an excellent article from The Economist on the differences between the sexes. The list of references for that article is especially rich.
We can also easily find fault with Mr. Hastings' arguments by looking at counter-examples. People's Daily Online, China's government newspaper, reports that more than 1/3 of engineers in China are female. In the 1980's, 58% of engineers in Russia were female although market reforms has since diminished those numbers to be on par with China.
Finally, Mr. Hastings closes his arguments with an irrelevant example of his daughter that veers off into, at best, the tangential. I'm sure others can make a better case than I against Mr. Hastings, but unfortunately, arguing with facts has rarely changed anyone's mind. Furthermore, I've found Mr. Hastings' attitudes to be more pervasive and entrenched in the industry than I had anticipated when first joining the workforce. But if your favourite engineering blog (Engineer Blogs, of course!) is anything to go by, those attitudes are slowly retiring along with their aging masters.