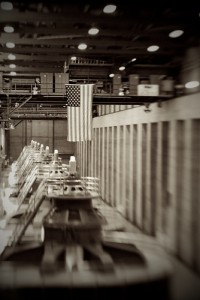 All across the midwest this evening, they've been calling the most recent stormfront the Blizzard of 2011. Whether or not it will develop into a truly nasty storm remains to be seen. But it did get me thinking (and yes, a little bit scared):
If you had to generate all you own power starting tomorrow, do you think you could do it?
Posing this question to a few co-workers and myself gave me pause. I understand the scope and magnitude of power generation. It's no small feat! Aside from the fact that we just expect power to be there these days, we don't usually have a real feel for how much total power we use and how hard it is it actually generate that power. But we're all engineers around here, right? (or at least masochists who enjoy reading about engineering) So let's figure out what it would take and how we would do it.
So what's first? I'd say prioritizing. What do you really need? Do you need a computer? The ability to watch TV? No, probably not (well, you might need the ability to charge your book, assuming you're an early Kindle adopter and have already thrown out your paper copies). How about a microwave? A washing machine? These are still modern conveniences but you don't need them to survive. Here's my top three:
Furnace fan/controller
Lights
Refrigerator
These are still debatable but represent what I feel would be most important. Food, heat, light…all important to a manageable home in the dead of winter.
The thing many do not realize though, and the interesting design constraint is just how much power it will take to run these devices.
Furnace fan/controller — Less than 50 Watts
Lights — 13W for a "60W equivalent" CFL, 60W for an incandescent. PER BULB. That can add up fast.
Refrigerator — Average of 100W, higher when the compressor kicks on, up to 700W on older models.
So we'll assume your furnace is running (45W), you have 5 CFL light bulbs lighting up your house (65W) and you have an old fridge (140W average). That's 250W total needed, not including the peaks when the compressor kicks on so you don't overstress your supply and have it shut down.
Now what?
Well, now you get to go out and try to figure out how to create 250W to run your reduced lifestyle (with all apologies to the efficient people who regularly use less energy than this). Let's start really really small. First, let's say you ignore the needs and you crazily insist on having a cell phone charged. You can do like Ben Heck and make a handcrank. This is a viable option for small components.
Next, you're sick of calling all your friends and hearing how their power is out too (though you get to mock them now for not having a charged phone). So you decide you're going to spend the afternoon hooking up a generator to the wheel of your stationary bike (more on the generator in a bit). Most cyclists output about 400W average, with some of that lost to the inefficiencies of the system. The rest you could try and deliver to your devices. Assuming the 100-300W output of some available systems, this could be a viable option for powering some or all of your "necessary" devices at home. However, be sure to keep those legs limber, you or a loved one will have to be pedaling the entire time you want to use these devices. Remember that the unit of Watts are energy (joules) per time (second). One hour of 250W (or W-h) delivered power is 900kJ. That's no small number.
While the benefits of a generator include a direct AC output, it also means that excess power either gets wasted or you need to tackled the difficult task of energy storage. You would need a rectifier, some kind of storage mechanism (batteries, etc), an inverter to create an AC signal when the power is needed and some kind of arbitration system for it all. If you happen to have all the materials around your house for building these things (power FETs, capacitors, a TON of AAA batteries, etc), you might be able to rig one together. Otherwise you'll be pedaling every time you believe your Diet Coke isn't quite cold enough.
Let's get to the final reality of the situation: people don't have generators hanging around their house, or if they do they're usually fuel powered. In this example we'll assume fuel is a finite resource (still quite true) and long term use of fuel is not an option. So assuming you're John Q Maker and you didn't think to go out and buy a generator that day, what do you do? Simply put, you build one. Sounds impossible? It's not. A couple guys have a well documented project how to just do it over at Instructables (warning: pay wall). They are creating it for a wind turbine, but there's no reason you couldn't get a similar kind of generator hooked up to something smaller. Again, this situation is assuming you'd be building while stuck at home, so it would be material dependent. But it's still a much better situation than not trying anything. You might be able to scavenge parts and materials from other devices in your home (washing machines have big ol' motors that might serve a turbine build well).
A scenario where power is out for an extended period is not hard to imagine. We hear about it in less fortunate countries on a regular basis. Winter storms such as the one we're experiencing now has the potential to knock out power for as long as it takes the utility company to repair the lines. And of course there are lots and lots of kooks out there on forums forecasting bad things happening in 2012. But in all these cases (and especially the last bonkers one), knowledge about how to make your way is the strongest tool you have. If you can create your own power at home at will, you will be much better set for many opportunities. And it could turn out to be a fun project. So why not go try it right now?