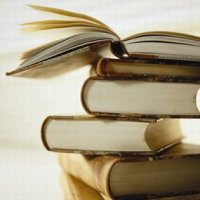 One of the best pieces of advice I received from a fellow engineer was to keep all my engineering books from university. He explained that the books you used to learn a topic are usually the easiest for you to go back and reference if you need to.
But beyond that, most engineers have a set of essential reference books they keep on their desk. I haven't really been in the industry long enough to specialize or have established as large a collection as I would like but here are a few of my favorites so far for mechanical engineering, and why. I hope all you engineering readers or even non-engineering readers will post with the favorite books you use in your field.
Machinery's Handbook
This is the standard every Mechanical Engineer has been using since it was first published some 30 editions ago in 1914. The subtitle reads "A reference book for the mechanical engineer, designer, maunufacturing engineer, draftsman, toolmaker and machinist" and that about sums it up. I've used it for a quick reference for material properties and bolts, nuts and fastener dimensions. It's been real handy when I'm trying to dimension a fit whether it be a certain level of press fit or countersink or clearance. But it goes into a lot more detail than that on welding techniques, tool definitions, inspecting guidelines, and plenty of diagrams for stress and strain.
Roark's Formulas for Stress and Strain
Speaking of stress and strain, this is ye olde standby reference book. It's still one of those where you need to know a little about what you're looking for but once you get the hang of it it's extremely useful. In fact it reminds me a lot of my textbook from high school but with way more diagrams and reference tables. I think it'd be difficult to learn from, but if you have a good grounding and want a reference book I like this one.
Mechanics and Thermodynamics of Propulsion
This was one of my textbooks. It's a little basic but has a lot of good equations when you're looking at a jet engine or typical components you might find in a jet engine. Good information for compressor maps and basic functioning of turboprop and turbofan engines. A little on the theoretical side is its main drawback.
Bosch's Automotive Handbook
The essential reference for the automotive engineer. Some crossover information with the Machinery's Handbook but good specific information for your car engine. Gives data on common oils and lubricants and an overview on lubricating systems and cooling systems as well as testing and inspection information. You need to know something about autos to be able to benefit from this quick lookup guide but otherwise it fills in the gaps that Machinery's does not have.
So how about you dear reader, what are your essential reference guides? How did you find the books you have and are your favorites and has that changed any as you've switched careers or specializations?