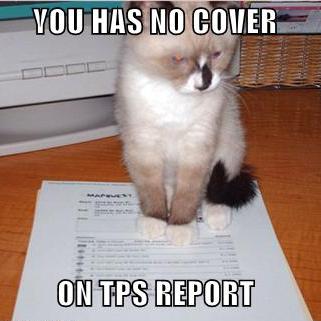 How do you write your best reports? The hardest part for me is getting started. Back when I was a humanities student I had a post-it note system of organization. Rather than starting with a written outline, I'd go through the document and attach stickies wherever there was a point I wanted to analyze. Then I'd just go back through, cite it or paraphrase with a footnote, and write my analysis on the spot.
Now it's a bit harder for me to do this fly by night method. It helps to start with a template I think which can serve as a rough outline, but it doesn't actually capture the main points you might want to hit. I generally have a really good idea of the overall objective and less of a good idea about how to get the reader through all the logical steps to get there. Often I have a plethora of tables and graphs that I'm just stuffing in without regards to content and then adding some less than optimal explanation. I've tried attempting an outline ahead of time to narrow it down, but something about the preparation scares me off. It's much easier for me to jump right in and make mistakes if necessary to crank it out.
Then how about editing it? Again, in my humanities days I was much better at refining points and analysis into something clearer. Now by the time I've spit it out on paper even if it looks terrible I usually don't know what to edit and where to start. Luckily, my competition amongst engineers writing technical documentation is not incredibly stiff. The bar at my workplace is set rather low in that if you have the requisite amount of words, a good number of graphs and tables, and a concluding sentence somewhere that sums up what you were trying to say you're good.
Engineering has determined the D1P-SHT system to be the best heat reducer for the test configuration of Ceti Alpha V. It has also been determined that the power requirements for the D1P-SHT are well within safe operating limitations and that in no way will the system interfere with safe operation of the hardware.
It's also important to keep in mind what the standard is for whom you are writing for. At university undergraduate levels I think there is a tendency for professors to want to see an excess of theory and background and history of what you are discussing as well as iterations in your design or development. In the worklplace you generally do not formally document design iterations in your final report.
So what do you do to improve your writing? I believe conventional wisdom from academics would be to write often. That's one of the reasons I enjoy blogging as I feel posts help me work on some of my faults (like not being clear, not being succint, not editing well, and using too many parentheses.)
How about everyone else? What is your writing process? What are you trying to work on and how?