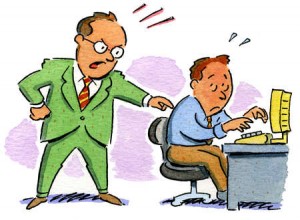 One of the certainties in the working world is the expectation of your work getting criticized. In engineering I think this plays a crucial role. You actually want criticism to make a better product and a better design. People asking questions and suggesting alternatives or pointing in problems in your test plan is what makes the best end result.
One engineer who I respect tremendously told me a story about bringing on a new employee who'd had prior experience at another shop. When the new employee was told about our products he had nothing but positive things to say. He looked forward to working there and seemed incredibly optimistic about the whole thing. And this put my engineer friend off. He was concerned that an engineer who didn't question his surroundings or wasn't ready to bring in his own alternate point of view was not a good engineer.
So I try to keep this in mind when the powers that be circle my reports and designs like vultures circling a corpse in the desert. So how does one take criticism well? Knowing that it's helpful for my design doesn't necessarily make it easier for my here and now reaction. In my experience, a senior engineer or lead or boss can often make the difference between an acceptable result and a fantastic result. And I'm lucky in that I have generous superiors who don't try to steal credit from me or make me acknowledge or be overly grateful for their input.
But it's difficult to hear when they don't like the direction you're taking. You've put a certain amount of time and even heart into your design and your plan and they can come along and tell you they don't like the direction whatsoever. Sometimes it can mean starting at square one. And the powers that be do not usually hold their punches. This is engineering and there's no need to be nice about it. So how do you avoid taking it personally? How do you make sure you're on the same page in seeing the end goal and a better design, especially when you disagree technically with their decisions?