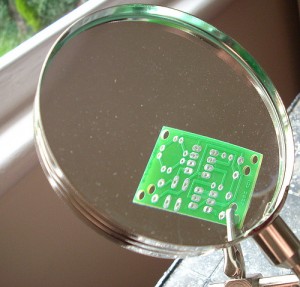 I've been reading more about entrepreneurship and starting businesses lately. Mostly in auxiliary reading about personal finance, but also in my reading about technology companies. One of my favorite sites, Get Rich Slowly, has lately been talking about a book called "The Millionaire Next Door". In fact, just today, Robert Brokamp of the Motley Fool interviewed one of the co-authors, Thomas Stanley. In the book, they highlight a large percentage of millionaires are business owners. I'm not using this as a basis for the idea of starting a company (many many companies fail)…I'm just saying that it's added motivation to take that leap.
So why not start up a technology manufacturing business? Why not go out on my own and make something?
Well, I'd still like to someday. In fact, I already have an incorporated business in the state of Ohio, Analog Life, LLC. However, this is more small time consulting work and I hold no inventory. No, my own reservations are about starting a full blown business that sells a product. A tangible thing. A piece of technology. Something that is a useful device that you can use to improve your life. By some accounts, I would be considered "scared" to start an electronics company this day and age.
I am putting forward that it is more difficult to start a technology manufacturing company these days than it was 20, 40 or even 60 years ago. My reference point for this is a book about Bill and Dave, the HP guys. They started one of the most prolific companies ever and I think it might not be possible for them to do the same today. Let's have a look at why:
Quick note: I tried to use the book examples where I could, but some of these numbers are VERY made up. I'm trying to give a sense of scale of difference, not necessarily specifics.
Startup costs are very high.

NOW: Narrowing this discussion to manufacturing (hey, Bill and Dave did it!), it quickly becomes a sticky situation.  Electronics aren't cheap. Holding inventory alone can run into the hundreds of thousands very very quickly. Imagine a board that you make that has 10 parts at $0.10 a piece. That's $1 per board. Since you sell such a cheap and awesome product, people want to be able to order a lot of them. Even at 50,000 units, you need to have $50,000 in inventory. Now, get realistic. No new technology uses only 10 parts, and if it does, those parts are not $0.10. Especially in the low quantities you're using. Oh, you also need to have equipment to run your boards on, and I don't think your toaster oven is up to the task.
THEN: No, I'm not saying it was easy back then. Far from it. However, there was quite a bit of available labor. And the technology was exclusively through hole parts. I would wager that a low-ish wage worker and a soldering iron back then were a cheaper solution (even in today's dollars) than a surface mount reflow machine and an x-ray machine for all those BGA parts.

China, India, Anywhere Else.

NOW: Well duh. But it has to be on the list. 10+ years into exporting manufacturing capabilities to lower cost countries, we're running into a new problem. It's not just about the cost (though that's still a component). It's also about manufacturing knowledge and capability. And the logistics. The truth of the matter is that it's often easier to be closer to where all of the other products are made.
THEN: 50 years ago, it was California and Silicon Valley where the electronics were made. And this included locally source components. Or hell, you were making the components yourself. Many of the parts HP used in early years that contributed partially to their success was the custom vacuum tubes. The logistics were different.

Funding is different.

NOW: You have an idea. A new machine that prints semiconductors directly onto a substrate. You need $5 million to get started in earnest. You search for VC. You pitch your idea. You get funding. You lose funding. You get more funding. And at the end of it all, because a VC was backing you, you are controlled by them, almost from the beginning.
THEN: You have an idea for a new oscillator. You make it in your garage with your buddy, using your fiancee's stove to make your bakelite boards (yes, this is how HP started). You do this with the money you've saved, also known as bootstrapping (with $538!…$8,314 in today's dollars). Once your business begins to make money, you're in charge. Why is this possible 50 years ago and not now? Because…

The newest ideas aren't as simple as they used to be; the highest levels of innovation are increasingly complex.

NOW: You went to a prodigious research institution, successfully defended your PhD thesis and now are pursuing licensing your technology through your school's technology transfer office in order to start a business. You have a really great new method for graphene production that could help make the next awesome microchip. You realize you'll need at least $10 million in startup capital and will require a staff of 20 full time scientists. Even if your new process works, your costs will be significantly higher than the current process, which yours only out-mods by 3%.
THEN: You discover an interesting system level circuit that you can prototype using a few vacuum tubes and some resistors. Your new circuit has 50% better performance than your competition. You're using a light bulb as a resistive element in your circuit and this is a novel idea at the time. (Note: I'm not downplaying the brilliance of this idea, just trying to show the difference in technological leaps)

More mega corporations in place you need to battle against from the beginning.

NOW: The process you licensed above was actually impinging on a patent that Company XYZ holds and they are willing to go to court. You can either shut down your operation or drop countless dollars and hours trying to fight in court. Say you decide to go to court and win your claim and don't emerge penniless. Now you are up against a multi-billion dollar competitor who really wants to dominate the business you're in. Your VCs that gave you the funding in the first place are encouraging you to become an acquisition target. This is a nice payout, from which you can try to start another company, but you wanted to start a company, remember? Now you're just a part of a really really big company.
THEN: You're up against really big competitors as well (General Electric or General Radio, for example). However, you're entering an industry that is just emerging and you are extremely nimble. You find get some contracts during the war to provide radio equipment that is recognized as crucial and well built. You finally get around to incorporating your business…8 years after starting.
Do I think these differences are a reason to give up the fight? To not try and strike out on my own someday with a product or a service or an idea? Hardly. In fact, it makes the challenge all the more rewarding in the event I succeed. More likely, it means that the electronics industry is a very mature industry and in order to succeed as a new business would mean probing to find a niche sector that could then expand into a large business. It also means that I will continue to research the subject and make an informed decision about how and when to hit the bricks trying to sell my new ideas.
What about you? Do you feel the entrepreneurial bug? Let us know in the comments.