A friend and I were discussing engineering education yesterday. The state of the education system, the constant lamenting of fewer engineers coming out of the US and our own experiences. Of course there are a ton of problems right now. And yes, there are also a lot of potential solutions in place. But out of this discussion came an irrefutible argument and idea:
(Most) engineering students need a remedial tinkering class
"Hunh? A what? I've never heard of that," you say.  Well, it's because it doesn't exist. But it exists for a lot of other subjects. If you weren't all that great at math in high school, you can usually find a remedial math class to brush up on your algebra. If you're from out of the country and english is a second language, there are often resources to help bring you up to a level where you'll have a chance at an introductory literature class. It's the same for many other classes. But what about tinkering? What about playing around? What about blowing shit up and learning how to fail? It's as important as any other skill in engineering and one that is woefully lacking in graduates (just check how many graduates can solder when they leave school).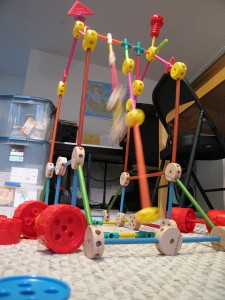 So do we really need this? You tell me! Here's what I know about the state of tinkering in the US: shop class is on the decline and most schools don't support the budget anymore. Kids are so busy working on their college extracurriculars that they can't spend time playing with toys and making things go (with some exceptions like FIRST).  Both manufacturing and enrollment in engineering programs in the US are on the decline, meaning we make less stuff and have less of a clue how our stuff works. There is a resurgent hobby community, but hardly enough to staff the world of tomorrow with top notch engineers.
I think students could use a primer on how to get their hands dirty. I know I didn't have anything like this but I sure would have appreciated it in school! I didn't truly start working on electronics until halfway through school. The rest was on my own or theoretical work. Shouldn't I have known prior to dropping $50K of my and the government's money (thanks Uncle Sam!) whether or not I enjoyed breathing in solder fumes??
Here's what I like about the idea of a remedial tinkering class:
You learn how to fail — It's such an important skill and one that students are shielded from for much too long. Students need to learn that this is a natural part of any design process and that no matter what Fluxor's corporate overlords say, you can't prevent every bug.
Troubleshooting — There's a reason that engineering students are recruited into countless (higher paying industries) other than the "makin' stuff" industry. Engineers know how to analyze a problem and teach themselves. They're also strong in math, logic and programming. But of all these tenable skills, troubleshooting is the most valuable. Being able to dissect a problem you've encountered pays dividends far beyond the classroom. Tinkering remediation would necessarily teach this skill often, mostly by virtue that people that don't know much about electronics or making mechanical models or chemical concoctions are likely to mess up at first. And then the student will quickly need to learn how to fix the problem they just made.
You figure out if you like engineering — I don't know the exact numbers at my alma mater, but I can say with certainty that a lot more students went into the engineering program than came out. While a tinkering class won't weed out the ones without the focus to put down the video games and go study, it will tell the ones who might not like engineering in the first place to try something new.
It gives context — There's nothing more demotivating than sitting in a math class being forced to learn a technique that just seems like it will NEVER be useful. I mean, Fourier transforms? Did anyone know what those were useful for when they started? Doubtful. But had you been an ambitious young lad or lass and had worked on a super regenerative IF HF spectrum analyzer (using a 555 timer perhaps!), you would understand just why frequency transformations are so damn important. And you would be very very sure that you understood how to do them. At the very least, you would understand the concept behind how the transformation works conceptually.
It would be fun as hell — Coupling education and fun is bound to have a positive effect. When students (or workers) are enjoying what they're doing, they're more likely to dig deeper into the material, gaining a better understanding and persisting to become experts. A tinkering class, where students are encouraged to try out new things, blow stuff up and MAKE things, all while getting college credit could be a strong launch pad into a strong academic and personal career in engineering.
Places like Australia and Europe have a tradition called a "gap year" where a student would go out and work and vacation and generally figure out what they want to do with their lives. This would be a smaller, more controlled and more engineering-based than that and would be part of a university. Getting perspective into the world of engineering can help drive many more students into the field and drive interest in science. And in times like the one we currently live in, it could not be more welcome.
Have you ever heard of a system like this? Were you a tinkerer? Sound off in the comments!