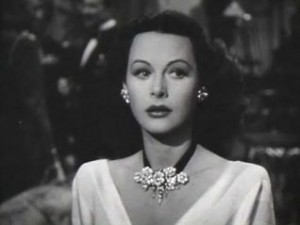 Yesterday was what I would consider bitterly cold on the high plains.  The actual air temperature was around -15°F.  I have no idea what the windchill was: I don't bother checking because it's usually bad and only makes me feel worse.  Despite that, I tucked my lab notebook under my arm along with a mess of paperwork and trekked to the part of campus (i.e. the next building over, which is a long way in the cold) that deals with intellectual property issues.
Those of you who read my blog may remember me talking about some easy funding I got for an idea.  The idea involved developing a special widget, and my supervisor thought it was an *ahem* novel idea.  He was hoping the widget might be patentable.  Granted, I may not be Hedy Lamarr, who patented the secret communication device below, but one can always hope that all this excess information rattling around in my noggin may eventually lead to something useful.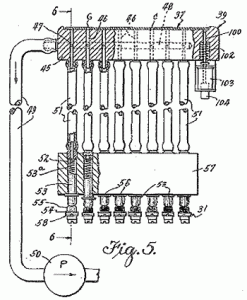 Prior to this project, I had very little knowledge of patents.  Being an academic, the idea of patents feels a bit problematic as it feels like a restriction on the free flow of information and innovation.  However, this conflicts with my notion that people should be fairly compensated for their work and ideas.  If someone comes up with a million-dollar idea, it's only fair that they get a cut of the million dollars.
I have read one of Fluxor's posts on patents.  My impression was that once someone had an idea, you tell the people who deal with intellectual property issues.  They will then immediately attempt to patent it, give you a hearty pat on the back, and maybe a measly check for your ingenuity and company loyalty.
Maybe that is the way it works in corporate America, maybe not.  Apparently my university works differently.
When I met with the patent agent, he spent a great deal of time asking me about the technical details of how my widget works.  He also asked me where I got the idea for my widget, what similar things are out there, how hard is it to manufacture, what would the market be for such a widget, etc.  He didn't want to know just about the widget but all other aspects of how it would be made and utilized (and potentially paid for).
I had thought about all these things, but not in tremendous detail.  It turns out that the university and many small companies don't have the resources ($$$!) to patent every widget and whatnot that comes through the doors of their intellectual property group.  In particular, I have to have a working, tested prototype of my widget before my disclosure form becomes official.  Once I do, then a group external to the university will begin feeling out industry to see if the widget is something they'd be interested in licensing.  If industry is interested, the university will then have to determine if the market is actually large enough to pursue patenting.  After going through all this, the university may decide it's not worth it and then turn the rights to do so back over the the inventor.
Personally, it seems a bit silly to me.  If they are going to expend the resources to research the possible market for a widget, it almost seems like it would be more efficient to just patent the silly thing and get it over with.
Fortunately, the university is pretty generous with their inventors: the inventors' share is a minimum of 30% of the royalties.  If something is licensed, this contrasts quite a bit with a single small payment that Fluxor mentioned in his post.  (I guess there can be advantages to being in academia after all.  My ideas may not be entirely my own, but a 30% kickback isn't too bad.)
Sadly, I'm not at the prototype stage with my widget, and I anticipate it will take me a couple more weeks to get there.  As of right now, the patent agent is holding on to my mounds of paperwork, waiting with bated breath to see what comes of it.  And, of course, I am even more anxious to hurry up and get it working before someone else replicates my brilliance.  I guess this means that I will have to wait a while to find out if my widget is worthy of the US Patent Office's seal of approval.  The up side to waiting is that my next trip to the IP office will be warmer.